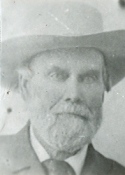 George Washington Catlin, Sr. was born September 21, 1818 in the town of Maryland, Otsego County, New York. His parents were Samuel Curtis Catlin (married 1805) and Sarah Perry (born 1779). He is the 3th Great Grandson of Thomas Catlin, who was one of the first British colonists to settle in America in approximately 1640 George's Great-Grandfather Abraham Catlin fought in the Revolutionary War in the Connecticut Militia. His grandfather Reverend Simeon Curtis Catlin also served in the Connecticut Militia.
George Catlin was baptized into the Church of Jesus Christ of Latter-day Saints on May 4, 1843. He married Elizabeth Marilla Emery on November 16, 1845 in Nauvoo, Hancock, Illinois. She was born on December 27, 1825 in New Albany, Bradford, New York. They had two children together; Sarah Altana Catlin and Elizabeth Marilla Catlin.
After the Saints were driven out of Nauvoo, the Catlin Family moved with the rest of the Saints to Winter Quarters, Iowa. They lived in Ward 15, Isaac Clark being the Bishop. The Catlin Family at this time consisted of George Washington Catlin, his wife Elizabeth Marilla Emery, George's parents, Samuel Curtis and Sarah (Sallie) Perry Catlin, George's sister Miranda Catlin and her husband Noah Willis Bartholomew and another of George's sisters, Mary Altana Catlin, who would later become a plural wife to her sister's husband, Noah Willis Bartholomew.
On October 17, 1846, George Washington Catlin enlisted to serve in the Mormon Battalion under the command of Captain James Brown. He was a Private in Company "C". It appears that his wife Elizabeth accompanied her husband on the Mormon Battalion march but it is unclear how far she went on the journey, although we do know she is not one of the women who made it all the way to California. She probably ended up in Pueblo, Colorado where most of the other Battalion women waited out the war. It also appears that Elizabeth gave birth to their first child (Sarah Atlana Catlin, born October 28, 1846) just 11 days after George enlisted. We can only assume Elizabeth took Sarah with them on this journey.
At some point, George and Elizabeth were reunited and they travelled back across the plains to Winter Quarters. It is unclear why the couple and their young daughter did this rather than simply continue on to the Salt Lake Valley. George's parents and his two sisters were back in Winter Quarters, but in 1850, when George, Elizabeth, 3 year old Sarah and 1 year old Elizabeth Marilla Catlin (who was born on May 24, 1849), joined the William Snow/Joseph Young Company, George's parents and sisters were not with them. We can only assume they travelled across the plains with Noah Willis Bartholemew.
None the less, records show that George Washington Catlin and his family left Winter Quarter's on June 21, 1850 and crossed the plains with the William Snow/Joseph Young Company, in which George served as a guardsman.   Sadly, George Washington Catlin experienced much grief on his journey to the Salt Lake Valley. Just 4 days after their departure, their 3 year old daughter, Sarah Altana Catlin, died of cholera on June 26, 1850. And within just a few days of Sarah's death, George's wife, Elizabeth Marilla Emery Catlin, also became ill. She died on July 5, 1850, within a few hours of falling ill.
The following is an account of their journey in the William Snow/Joseph Young company, written by Maryett Coray: "We commenced a journey that was to last for months, over a wild stretch of prairie and desert, and among bleak and snow-capped mountains-a journey memorable for its hardships, from fatigue, hunger and sickness. The cholera raged that season with uncommon fury on the plains, among all classes of emigrants, and the entire route was almost an unbroken succession of burying-grounds. Newly made graves met the eye at every step; and there, amidst these, and the loneliness and solitude of the great desert, we struggled on."
The company entered the Salt Lake Valley the first week of October 1850. George Catlin married Maria Louisa Sanderson on February 13, 1851 in Salt Lake City, Utah. She was born June 7, 1833 in Russell, Hampden, Massachusetts to James Sanderson and Mary Jane Sparks.
It is not known how George and Maria met or courted, but it is known that Maria Sanderson and her family were living in Winter Quarters the same time the Catlin family were. Maria Sanderson's father James had passed away and her mother married Moses Martin Sanders, whom she perhaps met because her son Henry Weeks Sanderson and Moses' son John Sanders worked on the ferry together in Winter Quarters. The Sanders/Sanderson Family lived together in Ward 7 in Winter Quarters. Maria's brother, Henry Weeks Sanderson, and her step-brother, Richard Twiggs Sanders, both served in the Mormon Battalion alongside George Washington Catlin. This may have been another way in which George and Maria were introduced to one another.
The Catlins first settled in Davis County, Utah, with George's daughter Elizabeth Marilla Catlin. Sadly, Elizabeth would only live to the age of 14. She passed away on July 4, 1863. On February 28, 1852, their daughter Maria Louisa Catlin was born. Just one week after her older half-sister, Elizabeth, passed away, Maria would die on July 11, 1863 at the age of 11.
Sometime after Maria Louisa was born in 1852, the family moved to Fillmore, Millard County, Utah. The family possibly moved to Fillmore because Maria Louisa Sanderson Catlin's step-father, Moses Martin Sanders, and his families were helping to settle Fillmore during this time. George's brother-in-law, Noah Willis Bartholomew also helped to settle Fillmore, Millard County, Utah and there is evidence that George's own parents settled there as well.
George Washington Catlin, Jr. was born on February 22, 1854, in Fillmore, Millard County, Utah. He would pass in 1904 when he was 50 years old.  Mary Jane Catlin was born in August 1856, also in Fillmore, Millard County, Utah. She, like her older sisters, died young at the age of 11 in 1867. On March 5, 1858, James Curtis Catlin was born, also in Fillmore, Utah. He passed away at 18 months old on September 13, 1859.
Sometime after James Curtis Catlin was born in 1858, the family moved to Fairview, Sanpete County, Utah, and another place the Sanders Family helped settle. Esther Ann Catlin was born here on November 21, 1860. Esther married Henry Willard Brizzee, Jr. on March 20, 1878 in Panaca, Lincoln, Nevada. Her father-in-law, Henry Willard Brizzee, Sr, was another fellow member of the Mormon Battalion to George Washington Catlin. Henry Philetus Catlin was born April 9, 1863 in Spring City, Sanpete County, Utah. He married Nannie Tarter on 21 January 1890 at Big Piney, Wyoming. Burden Dwight Catlin was born October 4, 1865 in Fairview, Sanpete County, Utah. He died April 24, 1899 in Grouse Creek, Utah at the age of 34 from an accident. Lewis Delroy Catlin was born March 16, 1868 in Mt. Pleasant, Sanpete, Utah. He married Emma Vilate Tanner in Grouse Creek, Utah on February 5, 1896. He died on January 18, 1925 in Salt Lake City, Utah.
The family moved back to Fillmore, Millard County, Utah in time for Albert Barber Catlin to be born there on October 2, 1870 in. He died April 18, 1883 at the age of 12.
Charles Catlin was born February 7, 1873 in Clover Wash, Lincoln County, Nevada. He married Mary Berry on October 31, 1908. He died October 20, 1960. William Edmund Catlin was born December 29, 1875. And Quartus Sparks Catlin, who was named after his maternal great-uncle, was born on July 7, 1878 in Pioche, Lincoln County, Nevada.
George Washington Catlin worked mostly as a farmer and a miner. But in the 1880 U.S. Census, he is listed as being a Stage Driver in Pioche, Lincoln, Nevada.
At some point during the 1880's or early 1890's, the Catlin family moved from southern Nevada to Northern Utah and moved into a three room log cabin on a small farm located between Grouse Creek and Etna, Utah. It is unknown why the family moved to Grouse Creek. George's daughter Esther Brizzee moved to Grouse Creek with her husband and small children, but it is unknown if the Brizzee family came to Grouse Creek before or after the Catlin's. And just like with the Catlin family, it is unknown what brought the Brizzee family to Grouse Creek. It's possible that it was for much the same reason the rest of the population was settling there- available land.
Very little is known about what life entailed for George Washington Catlin and his family in Grouse Creek. We can assume they farmed. His wife Maria Louisa Sanderson Catlin passed away on May 8, 1895 while visiting her family in Fairview, Sanpete, Utah.
After Maria's death, George's son and daughter-in-law, Lewis Delroy and Emma Vilate Tanner Catlin, moved into the small farm house to help care for him, as well as the youngest of the Catlin children. George Washington Catlin passed away on August 26, 1898 and is buried in the Grouse Creek Cemetery.
Epitaph:

George W. Catlin
Born Sept. 21, 1818 Maryland, New York
Died Aug. 26, 1898 Grouse Creek, Utah
Was a Mexican War Veteran
A Member of the Mormon Battalion
Also a Utah Pioneer
Death Is the Crown of Life
History submitted by George Washington Catlin's 3rd Great Granddaughter, Susannah Taylor. If you have any more information on George Washington Catlin than what is found above, or any corrections, the author would be very interested in gaining access to that information. You can e-mail her at: [email protected].