Albert Wayne Kimber – 25 February 1930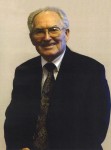 Wayne was born on February 25, 1930, to Lawrence J. Kimber and Nola Mary Richins Kimber in Ogden, Utah. His siblings were Glenn, Clifton, Elva, Ivy, Norene, Myrna, Jeneil and Bernice.
He grew up in Grouse Creek, Utah and graduated from Box Elder High School. He served in the Air Force during the Korean War. He then graduated from Utah State University in 1956 with a degree in Business Management and Accounting.
On May 13, 1958, he married his eternal companion Joanne Russell Kimber in the Salt Lake Temple. Their children were Kevin; Tonya; Jeannie, Rachelle, Cathy, and Debbie. He was an active member of the Church of Jesus Christ of Latter-Day Saints and dedicated his life to the service of his family and the Lord's work.
He held many positions in the church throughout his life, including High Councilman, Bishop, and President of the Heritage Park Branch in Roy. He also served in the Everett Washington Mission beside his sweetheart and was a temple worker in the Ogden Temple.
Wayne spent most of his working career in Roy City. 1959 -1966 as Treasurer, 1966-1979 as City Manager, and in 1980-1985 as City Councilman. He was elected Roy City Mayor in 1986-1989. He still loved Roy and wanted to contribute so he became a much loved bus driver, influencing yet another generation of children. Of all his accomplishments in his career, he would always say it was the people he loved the most and he loved going to all of Roy High's sporting events. If you asked any of his kids, they would tell you that you could never run a quick errand if Dad was with you. He'd always run in to someone he knew and a ten-minute trip turned in to an hour. 
Dad was a great example of unconditional love to all who knew him. He was loved by everyone he came in contact with because of his fun sense of humor and warm personality. Our Father was such a blessing in all of our lives and completely dedicated to his family. He always supported all his children and grandchildren's activities from cheerleading, dancing, sports, piano or any other talent each one had. He had a way of making each one of us feel like we were his favorite.
Our loving father, grandfather, uncle, and brother peacefully returned to our Heavenly Father and his eternal companion Joanne, on Saturday August 4, 2018, surrounded by his family.
Interment at the Roy City Cemetery.