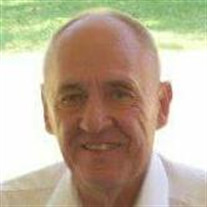 Dean Jorgensen Hadfield the last child born to William and Grace Hadfield. He was almost a leap year baby as February had twenty-nine days the year he was born on March 1, 1928. He also was ushered into the world by Grandma Hadfield, who died the following January 1929. When Dean was just 16 months old, his father William also died in 1929 just 2 days before his 43 birthday after being hospitalized for several months. He yearned to know his father his entire life.
He spent his early years taming the city of Grouse Creek along with his nine brothers and sisters. His older brother, Gordon, who had become his father figure, passed in a freak farm accident when Dean was 16 years old. At that same time, all four of his other brothers survived as soldiers in WWII.
He graduated from Logan High School in 1946. He then revealed a secret he had been keeping: he had also graduated from seminary, much to the surprise of his astonished mother. He attended USU briefly; he then chose the life experiences gained from travel. He met Arla Nyquist at a dance in Hyrum and later married her on a cold winter night, January 30, 1948. They were later sealed in the Logan Temple on June 24, 1952.   They are the parents of seven children and twenty-two grandchildren. Their children are:  Victoria Grace Brandt, Colin Hadfield, Toni Plott, Trace Hadfield, Shelley  Johnston, Sheila Lundgren, and Kristi Hawks.
They took up residence in Logan where he started and operated Cache Auto Wrecking with his brother Max for several years where they also sold auto parts. He loved participating in local parades with his business. It became more difficult to continue this line of work due to an elbow injury he sustained in the second grade, which continued to plague him the rest of life.
He began selling mobile homes and eventually became the owner/manager of Hadfield's Trailer Court. In 1972, after spending 24 years in Logan raising seven children, Dean began a successful career as an agent for New York Life Insurance in Twin Falls, ID where he belonged to the Million Dollar Round Table, because of his successful salesmanship. He retired December 1, 1993 with 25 years of service.
He was an active member in the LDS church with various roles: served as a Sunday School Counselor, worked in Stake Sunday School, acted as Elder's Quorum President (multiple times), and had been ordained a seventy. He helped with missionary work, donated equipment and time for welfare farm work, and attended church and temple on a regular basis. Dean attended some elementary school at Grouse Creek but most of his schooling was in Logan, Utah.

Dean retired early and spends his winters in Ajo, Arizona and Summers in Filer, Idaho.
Dean had a great sense of humor, the character that made him Dean, and the laughter that made him so special as a husband, father and grandparent. There was never a dull moment. He was always doing, scheming, building, planning and achieving. He was a "Grouse Creek Survivor" and we will always have his memory in our hearts. 
Dean Jorgensen Hadfield passed away Feb. 7, 2016, at his home in Preston, Idaho, after having endured the ill effects of Alzheimer's disease over the past several months. He is buried in the Hyrum Cemetery.