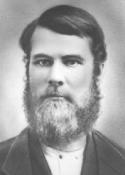 Charles Porter Brizzee was born on September 5, 1852 in Sacramento, CA. He was the first son of Henry Willard Brizzee a Mormon Battalion Leader and Emily Amanda Rockwell. Emily was the daughter of Orrin Porter Rockwell.  Charles had a brother also named Henry Willard Brizzee Jr.
Charles was known as a great horseman. He lived in Grouse Creek, Utah and would drive the horses all the way up to the Rexburg Bench in Idaho to the summer pasture.
He was married to Sarah Hall and they had the following children: Maybell, Charles Porter Jr., Henry Willard, Charles Roy, Emily and Hilda.  Sarah later divorced him over his drinking and married a man named Jensen. It caused some bitterness when Jensen wanted the kids sealed to them. It is unknown what Charles did or where he lived after Sarah left him.
He is buried in Salt Lake City, Utah.
Information provided by Charles Paul Brizzee