Wallace Howard Betteridge was born on December 7, 1905 in Grouse Creek, Utah. He was the fourth son born of John Taplin Betteridge and Ellen Sarah Ballingham. His brothers and sisters were Wilbur, George, Orland, Elva, Raida and Eva.
He was raised in Grouse Creek until a teenager when his parents moved to Ogden, Utah. He attended school about two years, and then persuaded his father to sign a release so he could go to work for the Southern Pacific Railroad as a Bridge and Building helper at Midlake, Utah on March 19, 1923. His job was to assist building the trestle across the Great Salt Lake. His career as a railroader was short lived, and he traded his hammer and saw for a ten gallon hat and started working for a ranch as a cowboy, his real desire.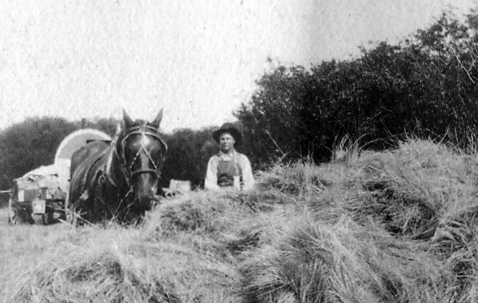 In January 1926 Wallace went back to work for the Southern Pacific Railroad at Lucin, Utah, cropping and drilling rails to replace the existing rail on the trestle of the Great Salt Lake. The money was better, and this held him there for a while, but again, he quit this job and went back to Grouse Creek, where there was a cute blond that he had his eye on by the name of Sarah Elizabeth Roberts.
On February 17, 1927 they were married, and in 1928 he returned to the railroad doing odd jobs until 1930 when the depression hit and once more he returned to Grouse Creek. Some time later, he returned to the railroad as a pumper to keep water supplied for the steam engines. This turned out to be his career and in 1931 he moved to Valley Pass, Nevada (about forty miles east of Wells,Nevada).
It was here that their family of six, Marva, Darwin H., Vernon W., Owen Clark and Vivian Rae were raised, and attended school at Montello, Nevada.
In 1954 he moved to Cobre, five miles east on the railroad where he continued with his job and also took over the store, post-office, and eating establishment and bunk house for the Nevada Northern Railroad that run from Ely, Nevada to Cobre. His job was to do the interchange from Nevada Northern to the Southern Pacific.
In the summer of 1957 after the last child graduated from school, they moved to Montello twenty miles east of Cobre. They spent the remainder of their lives in Montello. Here he leased ground from the Southern Pacific where he could have his horses and beef for their own consumption. Wallace, better known as Walker, was always involved chasing wild mustangs and working for the Gamble Ranch on the side, assisting with the care of stock.
Wallace was always involved in helping others. His abilities were many, and he found a way to fix most anything, even though it may not have been by the book.
He always had great admiration for the Church of Jesus Christ of Latter-Day Saints and was willing to support all functions, even though he was not an active member.
Wallace passed away in his home at Montello on September 27, 1989 after a long illness. He is buried in Grouse Creek, Utah where his roots were so deep.