My mother, Sarah Grace Wakefield Tanner, was the second daughter of Milas E. and Annie Elizabeth Kimber. After she married Allen Raymond Tanner, their first real home of their own was the tie house built by William Kimber out of railroad ties from the old Transcontinental Railroad. There was no inside plumbing, no electricity, and no water piped into the house. It had only four rooms. The little bit of furniture they had was given to Dad and Mom.
My sister, Alta Grace, was their first child, born on August 30, 1918. I came along on June 11, 1921. Her first son, Wayne, was born on February 21, 1925. Our second brother, Lewis, was born on June 25, 1927, and Harvey was born on November 26, 1936 (Thanksgiving Day.)
Mom always kept a good clean house and cooked good food, and was able to make a good tasty meal out of whatever she had on hand. She made most of our quilts, either piecing them out of pieces of material left from the dresses she made for herself, Alta and me, or from coats and pants she'd sew together and make tied quilts. She would take ticking and sew it together and fill it with fresh-mowed wild hay, and that would be our mattress. She had to make all of our clothes, the girls clothes mostly from Bertha's, Evelyn's and Grandma's old clothes and the boys clothes from Ted's, Lester's, Grandpa's or Dad's old discarded suits, overcoats, etc. Mom had no lessons in sewing, but she had a talent for taking old clothes and making good-looking, serviceable new outfits.
Mom made some beautiful braided rugs from torn rags. She also enjoyed and did a lot of piecing quilts, making up her own designs and doing the quilting. Some of Mom's quilts were taken to the State Fair and she won blue and red ribbons for them.
Mom always had a garden and we lived well off all the good fresh vegetables. Each year fruit peddlers came to Grouse Creek from the cities, selling fruits and vegetables. Mom would get some of the fruit to bottle, mostly pears, peaches, apricots and cherries, and sometimes a few cases of raspberries and strawberries for special treat foods.
A fond memory I have as a youngster growing up is waking up just after daylight and listening to my mother whistling as she worked about the house, cleaning, ironing or starting her washing. This was done mostly on the scrubbing board in a big round galvanized tub and then boiled in a copper boiler on the stove. Part of the time we had a hand washer which Uncle Rone (Moroni) Tanner turned for her. He was Grandpa Tanner's brother who never married and lived in a little shack up the hill behind us. He was always very good to help Mom with hard tasks.
Mom was in Ogden shortly after the second world war had ended, just shopping by herself when she went into the Sears store and saw two gasoline motorKenmore washers they had just received.  She charged one up to Dad and had it shipped to Grouse Creek.  This washer was later converted to electric and served Mom as long as she lived in Grouse Creek, and was passed on to Lewis, whose son, David, still has it.
Mom wasn't a great speaker and didn't do much speaking. She was a nice person to visit with and did much more listening than talking. In fact, people used to visit her and confide in her, and if they asked her not to tell anyone, she never did. She wasn't very enthusiastic about new clothes. She would wear things she had made instead of store-bought clothes. She didn't wear much jewelry, but she loved to string beads and wear them. Dad gave her some beautiful pieces, which did not get worn much.
Mom was very even tempered and didn't get angry very often. She never used slang nor took the Lord's name in vain. She didn't say or do things to hurt people in any way, but if she did feel you needed to be put in your place she could do it in a few words and you knew you had been put there to stay.
During World War II, Wayne and Lewis served in the Army. Wayne was in the thick of the war in Europe, and Lewis was in the occupation Army in Japan. Mom was always concerned about their safety, and was happy when they got back home.
As years went by, Alta and all the boys were married and living in town, and I was on a mission in California, leaving Mom and Dad alone in the Barlow home, which they had purchased. Then, in April 1963, Dad had a bad case of flu and late one night, he wanted someone to take him to Ogden to the doctor. When he arrived at Wayne's they had to take him directly to the Dee Hospital where, three days later, he passed away.
Mom went back out to Grouse Creek and stayed. She surprised us all by coming to California to visit her brother, Elwood and his wife, and joining Harvey and Gaylia in picking me up when I was released from my mission.
On the way back to Harvey's place in Los Angeles to spend some time before returning to Utah, Mom had a stroke and a heart attack. We had to stay there for a while and then came back home on the train.
I got my old job back and bought a house at 1720 Capitol Street in Ogden and Mom sold the Barlow house and came to Ogden to live with me for the next few years. She enjoyed being near the boys and their children, going for rides on Sundays, and going to Maddox Ranch House for chicken fried steak. She put up the quilt frames and kept busy.
In February 1967, she suffered a massive stroke and was taken to the Dee Hospital. Dr. Keyes said she must go into a nursing home. We were able to get her into Hillcrest where she got very good care and everyone liked her. After a couple years we decided to move Mom over to Dunn Rest Home, where she was happy and well liked, and where she stayed until she passed away on September 14, 1973.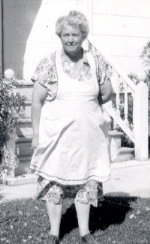 Don Chambers and I were married in May of 1970 in the Salt Lake Temple. Harvey and Gaylia brought Mom in her wheelchair to witness the sealing.
On September 14, 1973, Mom left this life pretty much the way she lived it, quietly and peacefully with things around her in good order. She had a large viewing at Larkin Mortuary with family members putting on the services. She was buried at the side of Dad up on the hill at Washington Heights Memorial Park.
Written by Flora Annie Tanner Chambers