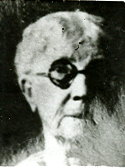 Ellen Blanthorn was born July 21, 1856 in Melor, Derbyshire, England, a daughter of William and Elizabeth Morton Shaw.
She married James R. Simpson in Melor on April 26, 1876, and in May as converts to the LDS Church, they left their homeland for the United States. They embarked at New York and after waiting for seats on the train, they arrived in Utah at Henefer. Here they built a one-room cabin, where their first son, a boy, was born.
Some of their new neighbors were excited after reading a letter in the Deseret News describing the Grouse Creek Valley as a great place to locate homes. Written by Isaac Kimball (a brother to Samuel Heber Kimball), who was already living in the valley. Four men set out on horses to investigate Isaac's claims. Upon their return, Ellen and James Simpson decided to go, and along with the Albert Richins family, loaded up one wagon drawn by a yolk oxen, arriving in the Grouse Creek Valley in June 1877.
In 1887, ten years later, James Simpson died as the result of an accident while constructing a stone store in Oakley, Idaho. Ellen was left to support eight children.
The children born to them were James Thomas, Elizabeth, John William, Margaret, Samuel Shaw, Heber Chase, Mary and Isaac.
Ellen was sent by the community to take training in nursing at the LDS Hospital in Salt Lake City. Here she met and married (October 16, 1896) a male nurse, George Alfred Blanthorn. He had recently emigrated from England.
The couple returned to Grouse Creek to Ellen's ranch, where in the ensuing years(35) she was active as a midwife in the Grouse Creek area. Along with her husband, the two also attended to other medical problems in the community. They are the parents of one son, George Albert Blanthorn.
She was an active member of the LDS Church and was for fifteen years a counselor in the Grouse Creek Ward Relief society, also serving in the Young Women's program.
She passed away on July 16, 1949 in Ogden, Weber County, Utah and is buried in the Grouse Creek Cemetery.