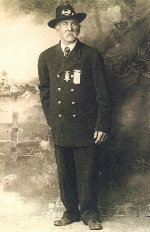 George Adelbert Cook was born in Bellingham, Massachusetts on September 30, 1843. He came to Utah following service in the Civil War. He sustained extensive war injuries and was a prisoner of war at Camp Sumter.
Camp Sumter, commonly called Andersonville, was one of the largest military prisons established by the Confederacy during the Civil War. In existence for 14 months, over 45,000 Union soldiers were confined at the prison. Of these, almost 13,000 died from disease, poor sanitation, malnutrition, overcrowding, and exposure to the elements.
On February 26, 1880, he married Elizabeth Ann Kimber and became the father that Elizabeth's daughter, Clara Elizabeth, had never had.
He died on December 9, 1914 at Grouse Creek, Utah and is buried beside his wife in the Grouse Creek Cemetery.