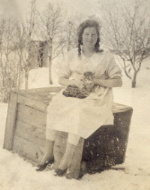 Alice was born at Etna, Utah, on March 23, 1902.  Etna is five miles west of Grouse Creek. She was the daughter of Joseph Smith Barlow Jr. and Elizabeth Christena (Christiana) Hansen.
Her brothers and sisters were Mildred, born on October 26, 1900,  Elmer Joseph, born on June 5, 1906, Shirley H., born on January 24, 1908, Ruth, born on October 29, 1909, Ida, born on September 29, 1911, and Wayne, born on November 27, 1915.In 1905 her father was called to serve a mission to England for The Church of Jesus Christ of Latter-day Saints. Her mother took the two children, Mildred and Alice, and went to live with her family in Brigham City, Utah.
Her father returned from his mission in 1905 and the family moved back to Etna where they lived until 1913 or 1914 when they all moved to Grouse Creek and stayed there until June 1922.
Alice's father was called to be in the Stake Presidency  in the Raft River Stake of the Church of Jesus Christ of Latter-day Saints. Since Malta, Idaho was the headquarters for the Stake, it was requested that he and his family move there.
Olive Tanner, Mildred Barlow, Unknown, Alvin Kimber & Alice Barlow
According to Alice's sister, Ida, they sold their home and farm and moved everything they had with a team of horses and a big hayrack. There were big mud holes. The hayrack was stuck for several days. They stayed with friends in the little wayside town of Lynn.
Alice was now twenty years old. She had a long courtship with Alvin Kimber and probably really didn't want to leave Grouse Creek. She corresponded with Alvin and in June 1923 he came to Malta to visit for a few days, ending in their marriage on June 6, 1923 in the Salt Lake Temple
Alice was blessed to give birth to three children:
Rulon Dean            April 3, 1824                     February 4, 1964
Maurine                   March 19, 1926                 Not deceased
Elda Mae                  January 21, 1928             April 17, 1981
After they moved from Grouse Creek for Alvin to get employment, he was offered a position as custodian for a duck club in Woods Cross Utah in the year 1933. One of Alvin's responsibilities was to pick the ducks. Alice made pillows from the down of the ducks.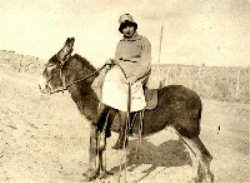 Even though there were several moves yet for the family, Alice always made the best of situations and made their home as beautiful and comfortable as possible, always very clean and tidy.
Finally in 1944 the family was so excited about buying a home. It was the only home Alvin and Alice owned. They immediately set about planting flowers, trees, and lawn. It was a haven of peace and rest for family and friends. Many people enjoyed the fruit and vegetables grown by them. After Alvin died, the home was sold.
Alice was an excellent seamstress. Many hours were spent in her mother's home making clothes for the family. At times it was necessary to take apart adult coats, suits etc. to make the same for the children. After moving to Utah she still made most of the children's clothes. She could go to Salt Lake City, look at the dresses and come home to design and make them more beautiful and more perfect than the "store bought" ones.
During World War II Alice worked for a time at one of the defense bases. She bought a beautiful set of china dishes which she had always wanted but couldn't afford. The china became part of many special delicious dinners in the Kimber home. Alice was an excellent cook and made delicious bread and rolls.
The tradition of bottling fruits and vegetables continued in her married life. It was done so perfectly that it would have won many prizes at the state fair.
Joseph Kimber, Leslie Tanner, Alice Barlow, Beth Davis, Lawrence Kimber – 1918
Her sister Ida tells of some advice Alice gave her that she never forgot, "Decision is like a sharp knife. Once you have made it, feel it is right and don't wonder if you did the right thing."
Alice served in many varied callings in The Church of Jesus Christ of Latter-day Saints. She possessed those qualities we call "Christ Like."
Alice died on July 10, 1967. She was buried in the Bountiful Memorial Park.
I loved her in mortality. May I be worthy to love her as my eternal mother.
Maurine Kimber Townley
Submitted May 1996