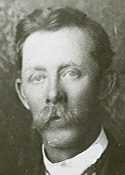 James William Betteridge was born in, Henefer, Utah on September 26, 1872 to William Cotton Betteridge and Sarah Paskett Betteridge.  James' parents were born in England and after joining the LDS church they migrated to America, and lived in Henefer, Utah.
James's father read an article in the Deseret News giving a glowing account of a valley in Northwestern Box Elder County called Grouse Creek. He, with two of his brothers-in-law, became interested and decided to investigate. They, with two other men, set out and made a visit and decided to locate in the little valley. They set to work and selected a farm each and built one or two log houses of one room each and covered with dirt roofs, no floors except the bare ground, no windows. They returned to Henefer and prepared to remove to their new home.
Grouse Creek was a ranch type area and cattle country. It was a small community where everyone knew all the people who lived there. The nearest railroad was in Lucin about thirty miles south of Grouse Creek.
It was late October when they finally set out on their journey of more than 200 miles, by way of Ogden and Brigham City. The little company had some cows. They engaged two young men of Henefer to go along and drive the loose stock. After a tedious journey, they arrived at their destination and settled in their new home.
They had to clear the land of sagebrush and that was indeed a job. Then they had to plow and plant. They also had to dig irrigation ditches and that was another job as they had nothing but plows. The loosened dirt all had to be moved by hand, with shovels, mostly short handled and real back breakers.  Their efforts were rewarded by good harvests and their second winter was one in which they had plenty to eat. For meat they shot jack rabbits.
As time went on, it was found that the water supply was short on account of the long distance it had to run so it was decided to move farther up the valley and lay out a townsite. That was done and the little community was more concentrated, which gave the people a chance to be more social. They could walk to their neighbors.
A Sunday School was organized and all the meetings were held in the Betteridge home, it being the largest in the "town."
Dances, too, notwithstanding the floor by this time was made of sandstone and was especially hard on shoes. Nothing but square dances were allowed in those days. Waltzes were taboo. They allowed the boys to get too close to the girls. Later two waltzes per evening was allowed.
In time the crowds became so large that in order that each could have his share, numbers were given each man or boy and the floor manager called as many numbers as the floor could accommodate and all other dancers remained seated till the dance finished and a new set of numbers was called.
Their first Christmas in Grouse Creek was not very lush. His Dad made a little molasses candy. That was all. The next one was a real celebration, with a tree and Santa and all the trimmings that was possible.
James' mother taught him the ABC's. She taught during the first winter. She had a mixed bunch and some of them were tough nuts. In the morning they had to kneel down while she petitioned the throne of grace, for assistance in her days labor. The next school was taught by one of James' uncles.
Later a tithing granary was built of rough logs, and that became a church and a schoolhouse.
The school population grew and a new schoolhouse was built out of logs which, in its turn, served as a church as well as a schoolhouse. Celebrations and meetings were always convened there. Then the community got together and built another house, an amusement hall, also of logs but larger than the others before constructed, and with a shingled roof.
When James was about twenty-two years of age, he went to work for a Mr. J.C. Lee at Tacoma, Nevada in a store. Tacoma was about thirty miles from Grouse Creek. Mr. Lee kept a feed stable. Work went on seven days a week and from 5:00 a.m. to 9:00 p.m.or 10:00 p.m., which sometimes was very unnecessary. There were no recreation or social opportunities of any kind. His employer was a man who did a lot of good by extending credit to the people of Grouse Creek for food and other supplies and often lending them money.
He was called to go on a mission for the LDS Church to England in 1902. He served two years.
After returning from his mission in January 1904 he again started working for Mr. Lee at Tacoma, Nevada.
He corresponded with his English friends that he had met on his mission and persuaded one of them, Emily Ness, to come to Salt Lake City to marry him. They were married in the Salt Lake Temple on October 19, 1904.
They lived in Tacoma for a short time and then they moved to Grouse Creek, Utah. He worked in the family store and also a ranch owned by the family. The store was not a huge success. It was destroyed by fire and after the fire, business fell off and finally they closed it up.
James and Emily had six children born to them at Grouse Creek:  Alpha, Olive, Eileen, Verna, Jessie and Muriel.
In 1917 the family moved to the Provo Bench where James worked growing fruit and he had a tough time of it, but he managed to keep going. He finally landed a job as a custodian for Spencer School. While living in Provo, three more children were added to the family:  Norma, Bryce and June, making nine children in all.
In 1929 the family moved to Salt Lake City. He worked as a custodian at Kearns Air Force Base and also at the University of Utah.
He was always active in the LDS Church all his life.
James died on April 10, 1961 in Salt Lake City, Utah.