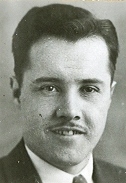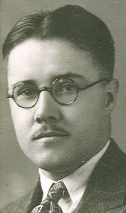 Don Milas Wakefield was born 3 September 1905 in Grouse Creek, Utah, the sixth child of Milas Erastus Wakefield and Annie Elizabeth Kimber. He was raised in Grouse Creek attending school through the 10th grade in Grouse Creek. He finished high school in Ogden, Utah, and attended Weber State College, though he would not receive an associate degree from Weber for some years. After attending Weber, Don played in a theatrical stock company for several months in and around Ogden.
In September 1922 Don, along with Mother and siblings, Ellis, LaRetta, Claude, Elwood and baby Leland, moved to Ogden, Utah at which time Don entered Ogden High School. In the school year of 1923 Don wrote, and produced, the Ogden High "follies." He was to play a part in it too, but the day before the presentation he came down with pneumonia, as a result pf his sleepless nights while working on the play. He was a very sick boy and it took a month for him to get back on his feet.
The night of the "follies" presentation brother Jack and sister LaRetta attended and made the report back to the very sick boy.
The family returned to Grouse Creek after school was out in the spring, and with the exception of a couple of winters, returned to Ogden in the fall. The winter of 1929 was the last winter spent in Ogden for school.
The winter that Don was at Grouse Creek he and Dad (Milas E.) produced stage plays, using the young people, mostly, of the community. One play would be in production while at the same time one would be in rehearsal.  Plays were often performed at Montello, Nevada, too.
Music was a big part of Don's life. He played banjo, and sang, with the Grouse Creek orchestra for quite sometime. He had a really good voice and sang at different occasions, and places, and was always a favorite to sing at funerals. He sang in the Ward Choir and often conducted instead of Dad who was Ward chorister for over 30 years. Don also sang in Glee club while at Weber College. A Professor at Weber College told him he had perfect pitch.
During the years in Grouse Creek at Thanksgiving and Christmas time a group of young fellows would get a "Bob" sleigh and would go around the valley serenading residents. Brother Arlin was very good on the Harmonica and Don played banjo while others of the group either played something or sang, or both. They would be served some special treat at different residences and by the time they got back home they were in no way ready for the big dinner.
In Don's early years he suffered with severe earaches which lasted into his early teens. Later years he really suffered with bad legs.
In 1928 he began a mission to Holland for the Church of Jesus Christ of Latter-day Saints. Returning to Utah in 1930, he found odd jobs in carpentry and farming. In 1935 he completed the necessary college work and earned an associate degree from Weber State College.
Sometime after his mission, Claude (his younger brother) tells that Don went temporarily blind. He was directing a play he had written and was standing on one side of the stage and Claude was on the other side when Claude noticed Don waving for him to come to him. Don told Claude to cue the actors, but Claude says he really didn't need to do that since Don had the whole play memorized anyway. But Don could not see. It was discovered that he had abscessed teeth. After the teeth were removed, he still was unable to see for some time. His vision gradually came back but with night blindness and color blindness. This prevented him from serving during World War II.
In 1939 his sister LaRetta and her husband Harold found Don a job on the Duck Valley Indian Reservation in Nevada working in a store. At this time he met Luella Rose Crocheron while singing and playing with a dance band in the area. After a very brief courtship, he married Luella.
They lived at the Duck Valley Indian Reservation until the fall of 1941 when they moved to Bruneau, Idaho. Don worked for Luella's mother at her store while in Bruneau. The family soon moved to Mountain Home, Idaho, where he was employed by a general merchandise store. At this time he evidently also worked for the government, building a Japanese internment camp in the area. Don also was a principal in the Mountain Home School District.
In 1947 he accepted employment at Roswell, Idaho, as the Superintendent and a teacher, moving his family to Roswell that summer. Luella suffered a hernia protrusion after the family moved to Roswell and died on 7 September 1947 in a Nampa hospital as a result of a post-operative condition. She is buried in the Bruneau Cemetery.
After Luella's death, Don married Mary Inez Kneifel of Portland, Oregon, and moved there with his family in 1950. He taught school in Toledo, Oregon, on the coast while his family lived in Portland. He took correspondence classes during the school year and attended summer school until he completed his teaching degree with Eastern Oregon State College. He later taught in theTigard Oregon School District outside of Portland. On 9 November 1967 he died while teaching his 7th grade class and is interred in the mausoleum in Lake Oswego, Oregon.
He and Luella had two children-Bonnie Mae Wakefield Sigafus (husband Roy) who currently lives in Lexington, Kentucky, andDonella Elizabeth (Beth) Wakefield Walker (husband Bobby) who currently lives in Burlington, North Carolina.
He was an excellent teacher and many reports came that he had really helped many individuals learn how to really study.
Of his wife, Luella, whom he dearly loved, he said "she was a darned good Mother, and their two daughters had more training in the few short years she was with them than most kids get in a life time". The girls were 4 and 5 when their Mother died.