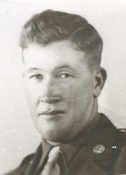 Vern Roberts was born June 5, 1917 in Grouse Creek, Utah, a son of Hugh and Louisa Kimber Roberts.
His brothers and sisters are: Sarah Elizabeth, Byron, Raymond H., Mary, Marie, Morgan, Rex Clifford, Joy and Elva Colleen.
He was reared and educated in Grouse Creek.
He married Betty Jean King and had one daughter Tana.
He graduated from the Oregon Institute of Technology with a degree in Auto Mechanics and in the late 1950's was Service Manager of several garages in Oregon and Nevada.
He lived in Lakeview, Oregon from 1956 to 1981 and was Foreman of the Drews Valley Ranch during the late 1950's and early 1960's. He also worked as a Log Scaler for Lakeview Lumber Company until retirement.
Vern was a World War II Army Veteran.
He was an avid team roper and trained roping horses.
Vern died July 8, 2002 at his Fallon, Nevada residence and was cremated.