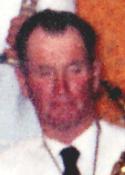 Grant Orvil Kimber was born on the ninth day of June 1913 at Etna, Utah.  The first 9 ½ years of Grant's life were normal, growing up in a family of five siblings and loving parents.  A new baby girl was born into the family on November 3, 1922.  Life began to change for these five children.  Their mother was too ill to care for them.  So Grandmother Warburton and others assisted in the caring for this young family.  Their mother, Amy May Warburton Kimber, passed away December 1, 1922 leaving six children, Ernest, Ivan, Grant, Lorna, Ida and Effie, ages 12 years to four weeks and a devastated husband, Evan Osborne Kimber.  The early years after the death of our mother were difficult for our father.  With patience and long suffering and the love for his family, he managed to keep the family together except for the new-born baby daughter who was taken to live with Dad's sister, Nell Toyn, her husband Charles and their family. 
We grew up in humble circumstances with our father providing us with the necessities – food, clothing and shelter.  It was our home!!  Our clothing was purchased from the catalogues, as were our toys.  The clothes were selected carefully and the toys were limited in quantity.  An orange found in our Christmas stocking was a precious gift.  Our "Family Home Evenings" were several times a week, all sitting around a well-used kitchen/dining room table in our combination kitchen/dining room/living room studying, reading or playing by the light of a coal oil (kerosene) lamp placed in the middle of the table.  I remember Grant and I playing with peanuts in the shell.  We would build corrals on the table with the whole peanuts and the shelled peanuts were the horses.  We would wrangle them between the fences and into the corrals and perhaps eating a horse or two.
Dad used to help us with our schoolwork at this table.  Sometimes he would read while we played.  Many hearty meals were served at this table.  Dad would prepare a hot nutritious breakfast for us before we went to school – two houses away.  As we grew older, our responsibilities increased.  The older boys learned to cook and clean in addition to learning the outside chores with their dad.  Their cooking stuck to the basic foods – beans, rice pudding and biscuits.  Lorna and I assumed these responsibilities early.  Grant enjoyed boiled raisin cake and milk as a snack after the dances.  So he baked one quite often.  During our younger years, Dad would board us out with relatives if he were going to be away for any length of time.  In February 1923, Dad had a serious accident while riding a horse in winter weather.  The horse slipped and fell.  Dad's leg was broken.  He required extensive surgery and his lengthy recovery was accomplished at Aunt Ann Wakefield's house in Ogden.  Lorna and I were in Etna with Ralph and Chloe Tanner, Ivan in Grouse Creek with Hugh and Louise Roberts and Grant was in Etna with Tom and Ethel Warburton.  Ivan become so homesick that he had to be taken to where Grant was staying.  We were so glad when Dad came home and we could return to our home and family.  In the summer of 1923, Dad signed a contract to do a haying job on the H.D. Ranch in Nevada.  Lorna and I were the only one's boarded out with Grandpa and Grandma Warburton. Dad took the boys with him.  Ernest was 13 and helped drive team.
As the boys grew up, they participated in all the things boys do.  Grant, along with Ivan and Ernest and some others on Grouse Creek formed a basketball team and they were pretty good.  They played teams from nearby communities.  They would even ride their horses over the mountain through snowdrifts to play in Almo.  They helped the family means by hunting coyotes on horseback for their pelts.  This activity also required them to occasionally ride through snowdrifts.
Grant had his share of serious accidents.  On one occasion, he and Ernest were making heel plates for their boots.  A piece of metal chipped off and lodged in his eye.  He and Ernest caught the train at Lucin and went to a doctor in Ogden.  Lorna and I went to the root cellar and prayed.  Our prayers were answered. Grant returned home with no damage to his eye and our faith in prayer was strengthened.  On another occasion, Grant was riding to capture wild range horses.  Grant's riding horse stopped quickly and threw Grant over its head.  Not wanting to lose his horse, Grant held onto the reins causing his elbow to break.  Dad took him to Ogden for medical treatment.  Grant had surgery and was required to wear a brace holding his arm out and up.  He remained in Ogden staying with Aunt Ann for a few weeks.  The arm remained stiff the remainder of his life which also disqualified him for the draft in World War II.
Grant was an introvert, insecure in expressing his thoughts and ideas in groups or public.  But he did share his love of music and his talent.  He and Ivan were self-taught saxophonists and played in the Grouse Creek Orchestra.  They played for a number of years not only in Grouse Creek but other nearby communities.
Grant was meticulous about his personal grooming, his clothes and his car.  He, as well as his brothers, learned to iron their long sleeve white shirts and press their suits on the table using a flat iron heated on a wood-burning stove.  As soon as Lorna and I were old enough, we assumed these duties also.
Grant was a kind, protective older brother.  He would remember to bring Lorna and me little gifts when he returned from a trip to town – even a new dress for the 4th of July or Christmas.  Our brothers were always kind and considerate of Lorna and me at the Grouse Creek dances.  We never had dates to go to the dance so the first dance partner was always suspenseful.  My older brothers always made sure that Lorna and I had a dance partner for the first dance and that kind of "broke the ice" for the rest of the evening.  They were always so complimentary of our dancing skills that it was pleasure to dance with them. And they were really good dancers.
This past summer, my son Bruce made it possible for me to have another personal visit with my only remaining brother and family member.  Our visit was impaired because of Grant's hearing loss.  But the old time tender feelings were just as strong as always.  After I returned home, Grant told me over the telephone that "It was good just having you sitting by me on the sofa."  I telephoned Grant two days before he passed away.  We had a wonderful conversation ending with "Goodbye.  I love you."  Maybe it was a miracle, he was hearing so well.
Grant passed away on November 21, 2001 and is buried in the Brigham City Cemetery in Brigham City, Utah..
Written by Ida Kimber Carter