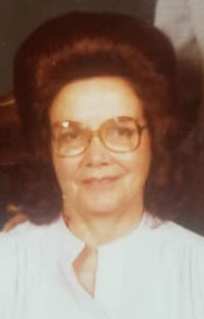 Melissa Montgomery Tanner was born March 21, 1921, in Yost, UT, the daughter of Charles A. and Eva Florence Mecham Montgomery.
Her brothers and sisters are Earl, Vernal, Clarence Arnold, Yale, twin sisters Eva & Reva and Valene
She married Donald Miller Mecham January 6, 1940, in Elko, NV. They had the following children: John Kerry, Richard, Kathleen, Bud.  Don died from a hunting accident in 1945.
She married Chester F. Mecham but they were later divorced. She then married Max V. Tanner on June 12, 1954, in Clear Creek, UT. Their marriage was later solemnized in the Logan LDS Temple on June 2, 1961.
She was a member of the Grouse Creek Ward of The Church of Jesus Christ of Latter-Day Saints where she had served as a Primary President, in two Relief Society Presidencies, a visiting teacher, a teacher in the Sunday School and Young Women's, and sang with the Relief Society Chorus. Melissa played the piano by ear and enjoyed using her talent in the service of others.
Melissa loved the out doors. Even as a child she spent much of her time camping, hunting and horseback riding around Yost and Grouse Creek. Old bottles, buckets, insulators, bells and unidentifiable objects from around the area adorned her home and garden. Mementos of the past too valuable to throw away. Her passion for flowers and shrubbery showed all summer long, in splashes of color in her yard and year round in her home.
Melissa's greatest joy was her husband Max, of Grouse Creek and her four children.
Melissa Montgomery Tanner, 79, died of cancer on Sunday, January 7, 2001, at her home in Grouse Creek and she is buried in the Grouse Creek Cemetery.