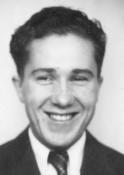 Charles Junior was born on March 19, 1918, the son of Charles Kimber Jr. and Josephine Persis Laird, in Grouse Creek, Box Elder Co., Utah. I was born at home with Mrs. Hadfield or Mrs. Blanthorn (midwives) helping assist the delivery, as there were no doctors in Grouse Creek.
I am the 21st child of my father's. His first wife, Sarah Elizabeth Morgan had nine children. After she died, he married Josephine Persis Laird and twelve children were born to them.
The children born to Sarah Elizabeth are:  Anne, George Edward, Ellen, Frank, Sarah Elizabeth, William Charles, Elmer, Evan O. and Louisa.
The children born to Josephine are:  Chloe, Winfred, Mary, Florence, Raymond, Edwin, Vera, Jim, Fern, Oren, Elsie and Charles Junior.
My father died when I was in the ninth grade. I can remember all the brothers and sisters gradually leaving home, making their homes with their new partners. Finally there was just mother, Raymond and I.
As a young man growing up in Grouse Creek, I participated in the many activities associated with ranch work. I helped with the haying and grain threshing in the summer, gathering cattle in the fall, feeding them during the winter, then branding and turning them out onto the range in the spring.
We had no automobiles and either walked, rode horses or rode on the wagon or buggy.
We had no electricity in those days. We used kerosene lamps for light. We used only wood to heat with, so each night I had to chop wood and bring in a tub of chips to start the fires the next morning. We also had chickens and turkeys for eggs and meat, also several pigs and of course two or three milk cows for milk and cream. We would churn the cream and make our own butter.
We would make ice cream for food and entertainment. We had to put ice blocks in the dirt cellar outside, cover them with straw to keep them frozen. These were cut in big chunks from the pond with hand saws, during the winter then hauled by horse drawn sleighs and put away for the summer months.
Our house was headquarters for the telephone. We had two phones. One was the Lucin line and the other the Grouse Creek and Etna line. You put in a call by cranking the handle with a combination of long and short rings. We had the only phone connected to Lucin. To send a telegram we would call it to the hotel in Lucin and they would walk it over to the Railroad Depot and the Railroad Operator would send the message by Morse code over the railroad lines.
There was twenty-six miles of telephone lines to Lucin, and those at Grouse Creek and the ones going to Etna, which we maintained.
Mother was a good cook and everything she made tasted very good. She always made homemade bread, keeping a start of yeast on the top of the stove, for the next batch.
Mother bottled a lot of fruit. She would buy several bushels of peaches, apples, pears, etc. Plums were grown on our own trees.
A lot of people would stay over at our house when they were going through Grouse Creek or were just there for a few days. Mother fed everyone that came by. No one went away hungry.
Because of poor transportation and very few cars, along with much distance to travel for needed supplies, we had to put away a good storage of supplies for the winter. Every fall Dad would travel to Burley, Idaho with a wagon load of wheat to trade for winter staples. Flour, honey, germade for cereal, rice and other items.
We also had a dirt cellar that was dug into the ground with a dirt roof where we had a large bin of potatoes, carrots, beets, cabbage, squash, etc.
Almost each year we would go over the mountain to the Rosebud Ranch and put up their hay. We would load our bags and bedding into the buggy, drawn by four horses, and drive the work horses along with us. It would take us about three weeks, as they had lots of hay to stack.
My education was in a four-room school at Grouse Creek. I attended here, up and including the tenth grade. The students in the tenth year, besides myself, were Parley Paskett, Belle Warburton, Nadine Simpson, Wanda Blanthorn and Mary Hadfield. I moved to Brigham to complete the Junior and Senior year and lived with my sister, Chloe Tanner.
On October 11, 1940, I was married to Leah Pettingill in the Salt Lake LDS Temple. She is the daughter of Keith Lavious Pettingill and Nora Adelaid Hadley.
Our children are, Kaylene Kimber, born on September 24, 1943 in Brigham City, Box Elder County, Utah. She married Larry James Seager on July 6, 1962.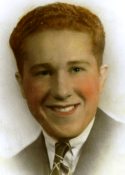 Our second child, Connie Gail was born on July 22, 1949. She married John Swanson on July 7, 1970.
Charles Keith Kimber was born on December 28, 1950 and married Cathy Ann Woodruff in the Logan Temple on November 12, 1971.
Leah, Kaylene and Junior Kimber
Barbara Sue Kimber was born on August 11, 1955 in Caldwell, Canyon County, Idaho. She was married on August 17, 1979 in the Salt Lake Temple to Douglas Keith Davies.
In 1937 I started working at the First National Bank in Brigham City, Utah.
In June 1942 I was drafted into the U.S. Army. I spent time in Alabama, Tennessee, Arizona, California, Hawaii, New Caledonia, Philippines and Japan. I was discharged in December 1945.
In 1946 I went to work for the First Security Bank.
In 1951 I applied for, and drew out on, a homestead, 160 acres in Middletown, Idaho. We moved our family there and developed a farm. We had to build a home and barn, fence the property, build roads, clear the land of sage brush, make ditches and of course, plant crops. We lived in an old trailer house while building the house. We erected a tent to sleep in during the summer months. We built most of the house ourselves. The neighbors helped with pouring the basement. A well was drilled first to give us water. Irrigation was from a canal that went at the top of our place.
Because of building our house ourselves we were able to sell out after five years, the time required for homesteading. Most of the others were too heavily in debt to get out.
We moved back to Brigham City in 1956 and I went to work for the Box Elder Bank, later known as First Interstate Bank.
We lived at 733 S. 3rd W. in a home originally owned by Leah's Aunt Sarah Siggard. We greatly changed and improved the home.
I have owned and operated a ranch in Grouse Creek most of my life. It is located up Joe Lee Creek and includes about 130 acres with seventy or eighty head of cattle.
In May 1965 Charles, Leah, Rhea and Arland Duvall purchased the 80 acres from Ted Betteridge in Grouse Creek. They built onto this house, adding a new bedroom, bath and porch. They spent many fun days working, plowing, planting, remodeling, etc. In 1973 we bought the Duvall's share.
My church/civic activities included:  Boy Scout Leader, Elders Quorum President, Home Teacher, Ward Financial Clerk, Stake Financial Clerk, President Sons of Utah Pioneers, President of Brigham City Lions Club, Commander of Veterans of Foreign Wars.
I served as Manager of the War Memorial Home, was a member of the Brigham City Zoning Committee, a member of the Brigham City Chamber of Commerce for many years.
I took a course in Business Law at Weber College in connection with banking, took a course at Colorado Springs, Colorado, went to Army Administration School, took a Shop and Agricultural course at a school in Middleton, Idaho.
I enjoyed hunting and fishing and being with my family.
I retired in March 1983, after twenty-seven years of banking service.
Charles Junior Kimber died on May 7, 1988 of an apparent heart attack and was interred in the Brigham City cemetery.