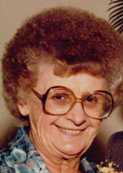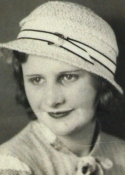 Wilma was born in Grouse Creek, Box Elder County, Utah on  November 4, 1912. Her parents are William Cotton Betteridge, born in Grouse Creek, Utah and Mary Elizabeth Hadfield Betteridge, who came to Grouse Creek from England when she was seventeen years old.
I was the fifth daughter born to the family. Hilda was the oldest, born in 1903, then Ella, born in 1905, Doris, born in 1908, Therma born in 1911 and Wilma born in 1912. Then the first and only son was born, Kenneth in 1915, and two more daughters, Clara, born in 1919, and Betty in 1922.
Our home was on the main street of town, across the road from the schoolhouse and a little way down from the church.  I remember our home and how pretty it was in the summer time. The north side was filled with holly hocks and there were lilac bushes on each side of the path that led to the gate. There were yellow roses next to the house. Along the front of the house there was an irrigation ditch and Dad always planted sweet peas next to it. We had enough that we could give a bouquet of flowers to anyone going past.
Our yard always had children playing in it and we had a great time and a happy home.
At night we'd gather around our pot bellied stove and sing songs, such as "There's a Long, Long Trail a Winding," "When you and I were Young Maggie," "I'll Take you Home Again Kathleen," and many more. Then we'd watch the reflection of the fire on the ceiling and call them fairies.
We went to school in a four-room schoolhouse. First, second and third grades met in one room, fourth, fifth and sixth grades in another room, seventh, eighth, ninth and tenth in a room and lunch was prepared in the fourth room.
In the winter I remember that the snow would be so deep and frozen so hard and it would cover up the fence. I remember walking right over the fence.
We'd all help with the chores on the farm. Ken would mow the hay and I would come behind and rake it, driving "Old Bess," our horse. Then the other girls would come along behind and pile the hay.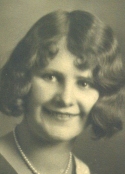 After the tenth grade we moved to Ogden to be able to continue with high school. We moved into a home at 2645 Eccles Avenue. This is where I met Frank Edward Little, who lived two house north of us. We dated and then we married in the Salt Lake Temple on December 20, 1934.
We had five children:  Sharon, Frank (Ted), R. Brent, Kenneth and Gregory. We have been blessed with twenty grandchildren and twenty-five great grandchildren.
In January 1981 we were called to serve a mission for the LDS church. We served in Denver Cambodian Mission. As we were en route home on May 28, 1983, Frank passed away.
Our lives have evolved around the Gospel of Jesus Christ of Latter-day Saints.
She passed away on March 25, 1999 at her home in Roy, Utah and was buried in the Washington  Heights Memorial Park in Ogden, Utah.