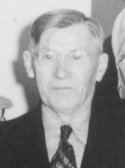 Carl Edward Peterson was born on February 28, 1883 in Sweden, the son of Mr. and Mrs. Peter Adolphson. He was reared and educated in Sweden, coming to the United States in 1903. He made his home in Wisconsin until 1908 when he moved to Grouse Creek.
Memories by Jennie Douglas Richins.
I remember so well seeing Carl and Oscar Peterson as they walked up through the field toward the ranch (lower Etna). Mother met them at the door and they asked her if they might have food and a place to sleep. They were very tired and hungry. They said they would be willing to sleep in the straw stack if we would let them stay. Mother told them to go talk to Dad out at the corral.
When they talked to Dad he agreed to food and lodging and took them to the bunk house and prepared beds for them. He then brought them into the house for dinner.
These two young men from Sweden had settled first in Wisconsin. The sister stayed there and made her home at Racine, Wisconsin, but Carl and Oscar headed West in search of work. They walked much and traveled the rails some, to reach the Douglas Ranch on the West Fork of Grouse Creek, Utah. They had deserted a freight train at Tacoma, a now extinct town, between Lucin, Utah and Montello, Nevada. When they inquired about employment someone referred them to the Douglas Brothers and pointed out the way to Etna.
It is said that as they were walking along the hot, dusty road, Oscar said to Carl, the older brother, "Carl, I'm so dry I can't spit." And Carl, in his usual quaintness replied, "What do you want to spit for?"
Jim and Dave Douglas gave these men work and they endeared themselves and became part of the family, moving with them when they moved to the East Fork of Grouse Creek. Carl lived with the Douglas' for thirty-nine years until both Jim and Dave and their wives had passed away. After Dave died he took care of Maggie, who had become an invalid. Dave, who was childless, adopted Carl in his own mind. He had lived with them as a son and had enjoyed the same privileges as a son. He remained in the family home until his death.
Carl was a quite, meek man but was a very hard worker. It is said that he would pitch hay so fast that he would load his side of the "slips" and then go around to help the man on the other side. He was always fixing and repairing. He did a lot of mining with Dave Douglas. He accumulated quite a holding of land up Pine Creek, which he later sold to Elmer, Winfred, Ray and Ted Kimber. If anyone was ever in need of anything they would turn to Carl for a loan. He was a good businessman. He never married.
Oscar was never in good health. After staying with the Douglas's a few years he returned to Wisconsin awhile and then went to Eureka, California, where he became a garage mechanic. He married, but the marriage didn't work out because of religious differences. She was a Holy Roller.
Upon his retirement at sixty-five he came back to Grouse Creek to spend the rest of his life with his brother, Carl, who now lived alone in the Dave Douglas home. Although Oscar had a bad heart and was noticeably ill, it was Carl who died first, following a stroke. He died in 1957. He was buried in the Dave and Maggie Douglas cemetery plot at Grouse Creek, Utah.
Oscar then went back to Wisconsin to live with his sister and brother-in-law. They were childless people. Late in 1962 she died and Oscar passed away about April 12, 1963. He was buried in Wisconsin.
Carl and Oscar were always at "home" with any of the Douglas'. Some of the Peterson brothers happiest times were when they would be in the midst of a family gathering, Carl clapping and tapping one foot and Oscar piping his Jew's harp or fingering his fiddle.