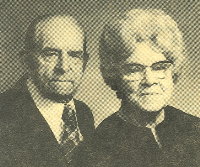 I was born on August 11, 1896, the daughter of Milas Erastus Wakefield and Annie Elizabeth Kimber, the oldest of 11 children.  Dad didn't have a home built then so I was born at Aunt Lizzie Cook's home.  It was a two room log house with a lean-to on the back, and a dirt roof.  I was born in the lean-to.  Dad was working at the Kimball ranch about five miles south of Grouse Creek.  Orson Richins was going to Lucin and he stopped and told Dad that I was born.  Sam Kimball wouldn't let Dad take a horse, so after work he walked the five miles up and back.
Dad bought some land from Aunt Lizzie in Grouse Creek and built a log home.  In 1978 the home was still standing.  After the house was built Albert Richins and Henry Blackburn had the ground surveyed and said that one corner of the house was on Albert's ground so Dad had to pay $25.00 for the small corner piece of land.  The $25.00 was a lot of money in those days.
In 1898 we were living in Huntington, Emery County.  While there Aunt Emma Wakefield gave me piano lessons.  I was about two and a half years old.  I learned to play by ear and could play about anything after I had heard the tune.  I pasted keys on the chair so I could practice the organ.  We moved back to Grouse Creek and Dad sent for an organ.  It had to be shipped to Tacoma, Nevada(about 40 miles from home).  Dad took the team and wagon for it.  It was Christmas time and very cold.  It was late when they got home with the organ, but I stayed up and played "Home Sweet Home" on it before going to bed.  Allen Tanner bought a piano, but his family wasn't interested in taking lessons, so Dad bought it from him.  I played in the ward when someone would have to pump the pedals because my legs wouldn't reach them.
We had a school play and I was a little gypsy girl.  My mother made a red dress for me and I had to wear it to school until it was worn out.  I sang the song "I am a little gypsy girl, My home is everywhere."  I am 80 years old and can still remember it.
On October 22, 1904 I was old enough to be baptized.  Dad hitched up the team (Vesta and Kernel) to the wagon.  With Mother, Dad, Sarah, Julia, Jack, Arlin and I we went about three miles to the Buckskin reservoir, where Dad baptized me.  Dad owned the reservoir and it was the source of water for Grouse Creek.  I was confirmed a member of the Church of Jesus Christ of Latter-day Saints on October 30, 1904 by David Harry Toyn.
I was in Mr. Saxton's room, and he was also the school principal.  He ask me a question in class one day and I said "I didn't know", he said "don't you know the alphabet"?  I said "I guess not."  He sent me to Miss Buttons room to ask her for a book with the alphabet in.  I said "Good gosh that's the ABCs. I know them both ways."
We had to make our own amusement.  In the winter they would flood the meadow and when it was frozen we would ice skate.  We would sleigh ride, then we would always go to someone's house and make candy, ice cream or pop corn. If the home had an organ we would sing and dance or play games.
We had basket dances. The women would all see who could make the prettiest basket.  The baskets had numbers on them and the men would draw numbers from the hat and that would be their partner for the evening.  We had chalk and toe dances.  The women would sit behind a curtain with just their toes showing.  The men would mark the shoe with chalk and that would be their partner for the evening.  We danced the waltz, two step, tucker waltz, polka, schottish, plain quadrille and the waltz quadrille, but not like they do now.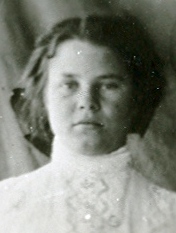 Dad took up a homestead on October 30, 1910.  It was about a half mile toward Buckskin, west from town.  To get the land, we had to claim it, live on it three years and make some improvements and then we could call it our own.  Dad cleared the land, built a cabin, dug a well, planted a garden and grain and made other improvements.
In the fall of 1913 I went to Provo, Utah and stayed with Aunt Emma and Uncle J.F. Wakefield.  I attended Brigham Young University and worked for my board and room.  When I returned to Grouse Creek from BYU I taught piano lessons.  I would ride a horse as much as five miles to give a lesson and only charged 50 cents a lesson.
In 1918 I went to Carson's ranch 16 miles north of Grouse Creek to help cook for the shearers and other hired men.  That is where I met George Lester Carson and we got married in March 1919.
Adele, our first child was born in my parents bedroom in Grouse Creek.  Mrs. Hadfield was a mid-wife and her fee was $15.00 to stay up to ten days.  She did not get there in time, so Mrs. Jane Richins, mother of 12 children helped with the delivery.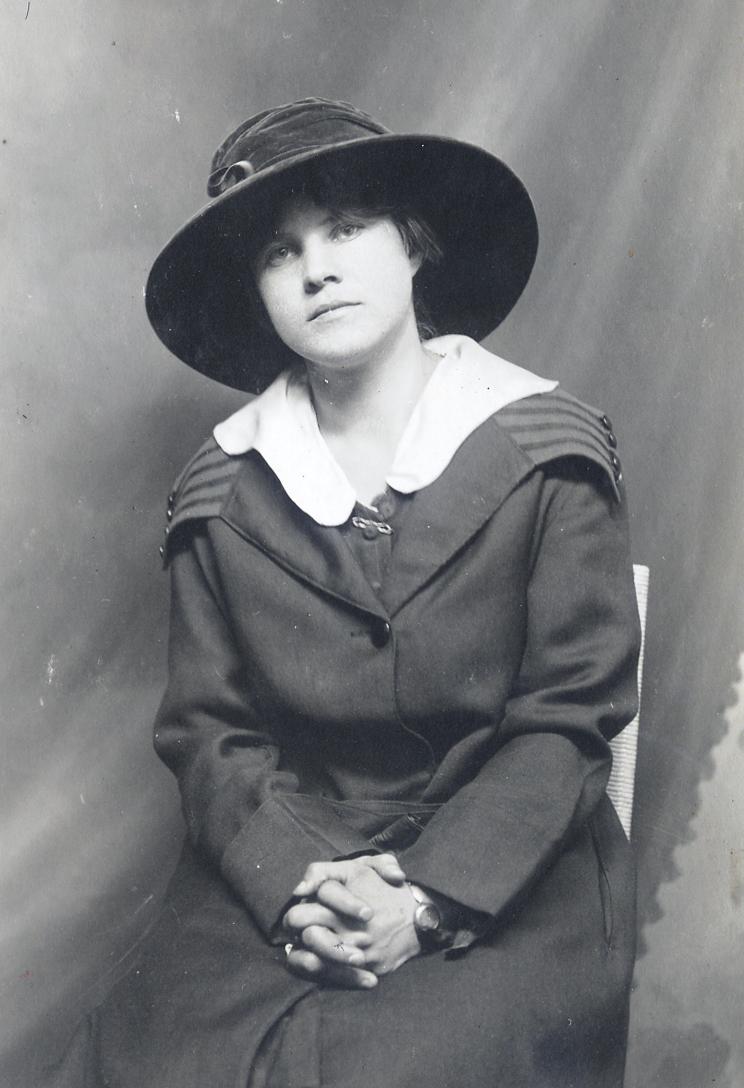 After Lester and I were married we lived at the Carson ranch.  I did all the inside work and a lot of the outside work as well.  We had no lawn, trees, no conveniences whatever.  I carried water from outside of the house.  When the spring went dry, we had to haul the water up from the creek.
One Christmas after Adele was born, we ordered some items from the Montgomery Ward catalog.  I rode the horse over to Grouse Creek to send the order and then about two weeks later I had to go back and get the package.  When I got back home from Grouse Creek I rode the horse right up to the porch.  Lester untied the package from the back of the saddle, there were walnuts in it and when the nuts started to rattle the horse jumped and reared all over the place.  I felt very lucky that it didn't happen while I was alone on the trail from Grouse Creek.
Adele and I waded through deep snow and found a small cedar tree.  The trees were brown in the winter so we built a fire out of bark, which makes dense smoke, rolled the tree in the smoke and the tree turned a lovely green color.  We had no ornaments or decorations.  The supply boxes were usually lined with thin lead sheets, much like the foil today, so we cut small strips and covered marbles, spools, or anything we could use and tied them on the tree with red thread – that was our Christmas tree.
One summer Hilda Richins Wakefield, my brother Arlin's wife, and her children came to the ranch while we were haying.  I had to take some sharpened hay knives down to the field and we all went in the pickup.  As we went through the gate a rattlesnake was curled there.  I took the axe and cut its head off and turned to put the axe back in the pickup.  Hilda yelled, the head was coming right at me–most people don't believe me when I tell this experience, but it really happened.  We learned a lot about snakes while living at the ranch.
We had very few women visit us at the ranch, just men and they were always hungry.  Our men folks always invited them to eat whether we were prepared for company or not.  One night a fellow appeared at the door no one knew who he was or where he came from.  He ate supper with us and left.  Mr. Carson said, "We should have ask him to stay the night", so the men went to overtake him, but they couldn't find him or any trace of which way he had gone.
Over the years, we had planted trees, watered and mowed the wild grass for lawn, planted a garden and flowers.  For many years we used coal oil lamps, but finally we obtained a butane refrigerator and a small power plant for lights.  We put up a fence around the house to keep the livestock out.
We had chances to sell the ranch, but not to our benefit; in exchange for dry farms, garage and car business, motels, in fact one motel was near Disneyland in California.  We finally sold to J.R. Simplot, a wealthy Idaho man.
Early in the 1950's we bought a home at 1220 – 32nd Street in Ogden – right to the side of Venice and her family.
July 4, 1965 was a very sad day for us when we packed our suitcases and left the ranch that had been our home for over 40 years. We sold everything we owned when we sold the ranch.  When we were ready to leave I cried.  Oather Hopper said "Don't cry, just come back and see us."  Oather stayed on the ranch to work for the new owner.
We had two choice daughters; different in their own ways, but still very choice.  As the years rolled on, with each came an anniversary.  Our daughters always had a small family dinner.  On our 50th we had a large family dinner at the Chuck-a-Rama with all of our children and grandchildren there.
Ten years flew by very fast and our grandchildren scattered far and wide.  For our 60th Anniversary Adele and Venice planned a family dinner at Weber State College Skyroom.  They made arrangements for all of the grandchildren and families to come for the occasion.  An open house was held at Venice's home and many friends and relatives came from Grouse Creek, Twin Falls, Idaho, Afton, Wyoming, Las Vegas, Nevada, California, and Washington.  There were 34 children, grandchildren and great grandchildren there.
Unfortunately, the end comes for each of us.  Her husband, G.L. Carson died, after a brief illness, on February 13, 1983 and the family provided the program for his funeral service.
Leona Flossie Wakefield Carson died on May 5, 1985 after failing health since Dad died.  The funeral was by the family she was so proud of.  She was buried in the Ogden City Cemetery. We knew she was now at peace with no more pain and suffering.