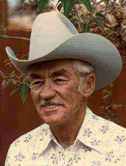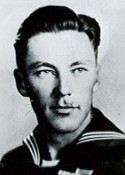 Bryan was born on December 29, 1919 in Grouse Creek, Utah to George (Kid) and Emma Lucas Blanthorn. His brothers and sisters are: Barbara, Wanda, Chester and Boyd.
He was reared and educated in Grouse Creek and attended Box Elder High School. He worked for Union Pacific Rail Road. He was a selective volunteer for the U. S. Navy in WWII. He is a survivor of the sinking of the USS Indianapolis.
After delivering cargo believed to be the atomic bomb at Tinian, the Indianapolis was dispatched to Guam and then routed to Leyte, in the Phillipine Islands.
At 12:14 a.m. on July 30, 1945, the USS Indianapolis was torpedoed by a Japanese submarine in the Philippine Sea and sank in 12 minutes. Of 1,196 men on board, approximately 300 went down with the ship. The remainder, about 900 men, were left floating in shark-infested waters with no lifeboats and most with no food or water. The ship was never missed, and by the time the survivors were spotted by accident four days later only 316 men were still alive. It was not until 10:25 on August 2nd, that the survivors were sighted, mostly held afloat by just life jackets, although there were a few rafts which had been cut loose. Sighted by a plane on routine patrol, the pilot dropped a life raft and radio transmitter. Upon completion of rescue operations on August 8th, a radius of 100 miles had been combed by day and night.

It is considered the worst Naval disaster in US history and Bryan was one of the survivors who lived to tell about it.
He married Afton Paskett on August 27, 1938 in Twin Falls, ID. They later divorced but had the following children: Patricia, Peggy, Dale, George, Paul and Bruce Blanthorn,
He married Barbara Jane "Bobbie" Archibald on April 24, 1961 in Ely, NV. Their marriage was solemnized in the Logan LDS Temple September 22, 1965. They had the following children: Sam; Corie, and a step-daughter Janet.
He was also a government trapper. He owned and operated his ranch in Grouse Creek and also managed JR Simplot's Grouse Creek Ranch for 16 years. He was the world's best dancer.
He had been a member of the Grouse Creek Ward and of the Tremonton Sixth Ward since November 12, 2004. He served in various church positions.
Bryan was 87 when he passed away on Thursday, July 6, 2007 at home. He is buried at the Grouse Creek Cemetery.