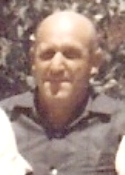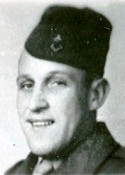 Norman Earl Hadfield was born in Grouse Creek, Utah on June 7, 1918. His parents were William and Grace Jorgensen Hadfield. He was the first to be born in the new, yet unfinished home that Grandpa Isaac Jorgensen built for us.
Norman missed a year of school after he finished at Grouse Creek. He and Vonda came to Logan together and joined the others and graduated the same year that Vonda did.
Their father, William died in 1929 just 2 days before his 43 birthday after being hospitalized for several months.
He drove a taxi a short time after graduation, but felt he could do better back at Grouse Creek, where he chopped cedar posts (in the snow), working with Gordon tying the fleece after the wool was sheared or other odd farm jobs, even a stint on the Pacific Railroad. It was while working out of Lucin, Utah in Tungsten Mines that he became critically ill with a ruptured appendix.
While working at Horace Taylor Service Station that he courted a sweetheart, Elaine Mair but Uncle Sam intervened due to World War II. Norman was in the second draft into the Army on March 17, 1941. He faithfully and proudly served his country as a soldier. He served in Europe and Africa in World War II and was a tank commander from 1942-45. He earned the Bronze Star for bravery and seven other military honors. After four years of intense heroic service in many lands for his country he said the order to return home was the best and the sweetest.
He returned home in June. He and Elaine were married in the Salt Lake Temple on October 8, 1945. They had four children, Norman Dee, Scott William, Chris Mair and Judy Lee. Norman worked for Logan City Street Department for twenty-three years. He was a street foreman and ended his career as Street Superintendent. He did custom tractor work, plowing gardens and snow removal.
He loved the outdoors, hunting, fishing, horses and he could fix anything. He will be remembered for his sense of humor, stories around the campfire, and his love and devotion for his family and country. He was a high priest in the Logan 18th Ward.
He was a leader in the Boy Scout Program for fifteen years. Norman and Elaine are the parents of four children and seven grandchildren. They are enjoying retirement and their family.
Norman passed away Thursday, July 17, 2008 and is buried in the Logan City Cemetery with full military honors.