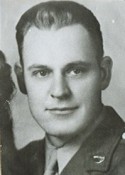 Delbert Warburton Hadfield was born on March 12, 1916 in Grouse Creek, Utah a son of John and Pauline Warburton Hadfield.
His brothers and sisters are: John (Jack), Reed, Richard, Mary, Emily, Ellen and Thelma and Herman
He was reared and completed his elementary education in Grouse Creek, Utah. He graduated from Box Elder High School where he was a member of the All State Football team, in 1934. He was Valedictorian of his graduating class of 1935.
He married Coy Lewis on March 24, 1940, in Brigham City, Utah. His children are: Karen and Jody Lewis.
Delbert was veteran of World War II.
He worked for J.C. Penny Co. He then operated Hadfield Furniture, was a Materials Manager for Morton Thiokol, and after retiring, worked in Real Estate sales.
Delbert was an avid golfer, loved bowling, and spent many hours telling and writing family stories and history. He had a very wry and unique sense of humor.
He served as an officer of the 20/30 club and was a member of the Brigham City and Eagle Mountain Golf clubs.
He was a member of the LDS church.
He died peacefully on February 13, 2000 and is buried in the Brigham City Cemetery.