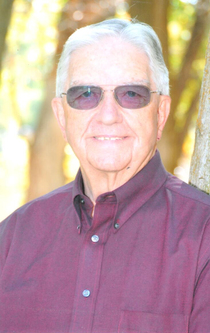 Virgil was born in Ogden, Utah to Wellington Irvin and Ruby Douglas Richins on December 26, 1928.  He was raised in Grouse Creek where he helped on the family ranch.  He later moved to Tremonton and attended and graduated from Bear River High School.  After school he resided in Pleasant View, Kaysville, and Centerville, UT and Colorado Springs, CO.
Virgil married his sweetheart, Sharon Hales on August 12, 1948 in the Logan LDS Temple. Their children are: Cheryl, Mark, Brent, Karla, and Sharon. Sharon passed away on January 25, 1972.
On October 12, 1972 he married Donna Josephson in the Ogden LDS Temple.  Their children are: Alan, Gary, Kevin and Deanna. Donna passed away on August 5, 2011.
He was a faithful member of The Church of Jesus Christ of Latter-day Saints and held many church callings.  He served as a Bishop, in multiple Bishoprics, as well as in a Stake Presidency.
Virgil worked as a salesman for Utah Concrete Pipe/Amcor for over 40 years.  After retiring he worked for Logo Concepts for five years.  He loved his work and those he worked with.
He was an avid hunter and loved hunting with his family and friends.  He loved dancing, cowboy poetry, and old country western music.  He was truly a cowboy at heart and loved spending time in Grouse Creek.  Virgil loved to serve others.  When he wasn't serving his family, he was always helping a neighbor, friend or anyone in need.  He had a soft heart and an endless capacity to love.
Virgil Richins, passed away on February 22, 2014 at the age of 85 and is buried in the Ben Lomond Cemetery, North Ogden.