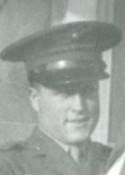 Rulon was born in Grouse Creek, Utah on September 24, 1922 a son of Elmer and Emily Annie Ballingham Kimber. His sister and brothers are: Emily, Lyman E. and Dennis M.
He received his early schooling in Grouse Creek and graduated from Box Elder High School in Brigham City, Utah. He enlisted in the Marine Corps in July 1942 and received boot training at San Diego, California and Corpus Christi, Texas before assignment overseas with the Marine Air Corps in November 1944.
Sgt. Kimber was killed while helping companions from a burning plane that had just landed on Samar, Philippine Islands on January 24, 1945. As he reached the plane it exploded.
He is buried in the Grouse Creek Cemetery.