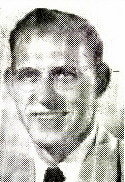 Rulon Lee was born April 8, 1925 in Montello, Nev. to Edward Lee and Rhoda Annie Paskett Lee. After spending some time living in Montello, then Etna and Grouse Creek, Utah the Lees moved to Oakley, Idaho.
Rulon joined the Navy March 16, 1943, serving in the Mediterranean for three years after which he was honorably discharged from service. He served a two-year mission to the Southern States in 1949, for the Church of Jesus Christ of Latter-­day Saints.
Rulon married Shirley Nish, daughter of Robert G. and Cassie Hyde, on October 16, 1951, in the Logan Temple.
Rulon and Shirley lived in Roy most of their married life where he worked at Hill Air Force Base for 33 years. They have 5 children, Gary, Carolyn, Janice, Cory, and Bonnie.
Rulon was active in the Church of Jesus Christ of Latter-day Saints all his life serving as Finance Clerk, a position which he held for 33 years. Other positions he served in were the Elders Quorum Presidency and Sunday School Presidency.
Rulon passed away on June 12, 2001 and is buried in the Evergreen Memorial Park in Ogden, Utah.