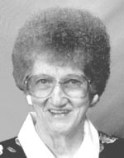 Audrey was born on Dec. 6, 1928, in Grouse Creek, Utah, the daughter of Herbert A. and Vera May Kimber Tanner.
Her brothers and sisters were:  Marjorie, Herbert Floyd, Norma, Merle, Shirley (passed away at age twelve), Darrell K., Donald LaVarr, Eileen, Allen Gary, and Barbara Ann.
She attended grade school in Grouse Creek and graduated from Box Elder High School in Brigham City, Utah. Audrey grew up in Grouse Creek and lived in various towns in Utah and Idaho and then spent 31 years in Oakley.
Audrey's dad like to nickname the kids in the community. Her dad nick named her Tink, and at school they called her Strawberry.
She married Vernon D. Teeter on Sept. 1, 1949, in the Salt Lake Temple of The Church of Jesus Christ of Latter-day Saints.
Her children are: Darwin, Verna, Marla and Sheila.
An active church member, she had a great love for her Savior and was very dedicated in her attendance and in her responsibilities. She served in various capacities including chorister and stake Relief Society and Sunday School secretary. She and her husband served a mission to Louisville, Ky.
Audrey loved jokes, puzzles, card games, poetry, music, crossword puzzles, games, singing, dancing, crafts, visitors, chocolate covered raisins and peanut clusters, tomato soup and crackers, cheeseburgers from Arctic Circle, tuna gravy on toast, Laurence Welk Show, grandchildren entertaining, and best of all she loved to go to Grouse Creek to be with her family. ( That would include her favorite cousins)
She was incredibly witty and loved to play on words – and you know how we love to tease as a family – we never forget the silly things family members do. To those who knew her really loved her for all her kindness.
She knew how to play a piano by ear, and she loved to sew, quilt, crochet, draw, and paint.
She worked for Cassia Memorial Hospital for 23 years and also drove truck for Pickett Ranch Company. Audrey's greatest love was for her family and she will be greatly missed. One day her family will rise up and call her blessed.
Audrey Tanner Teeter died at the age of 72 at Cassia Regional Medical Center in Burley on Sunday, June 17, 2001,
The funeral was held at the Oakley LDS Stake Center with Bishop Denny Davis officiating and she is buried at the Grouse Creek Cemetery.