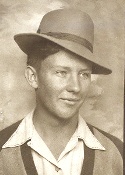 Donald L. Frost was born April 11, 1925 in Grouse Creek, Utah. He was a son of Frank LeRoy and Julia Vilate Wakefield Frost. He graduated from Box Elder High school.
He married Doris Almond on December 26, 1946, at Pocatello, Idaho. They had one child named Linda. He worked as a machinist at Hill Air Force base. He was a member of the LDS church. During World War II he served with the Army in the South Pacific and was a member of the Disabled American Veterans.
Donald L. Frost, 53, of Brigham, City, Utah, died Tuesday January 16, 1979, at Brigham City Community hospital and is buried in the Brigham City cemetery.