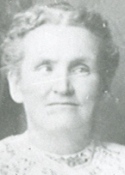 Laura Amanda DeWitt Warburton was born February 22, 1853 in Provo, Utah to William Martin and Martha Wilson DeWitt.
She married Pere C. Smith and to this union was born four children, Martha Jane, born on April 23, 1876 and died on March 1, 1885; Laura Belle, born on June 8, 1881 and died on March 10, 1885; Emily Ida, born on August 9, 1883 and died on March 10, 1885; and Henry LeRoy Smith, born ?. Emily Ida and Martha Jane died of diphtheria and Laura Belle predeceased them due to "a bowel complaint." So, you see that three of her children died within ten days. Henry Smith was the only child left from this marriage.
Mr. and Mrs. Warburton had been asked to come to Grouse Creek to assist a family that was having problems with diphtheria. They arrived back home late in the evening and hung their coats out on the clothesline so they could air out. The next morning, Belle and Emily were out playing and took the coats from the line and used them in their play. From this exposure they caught diphtheria and, as you can see, died shortly thereafter – within a day of each other.  They were buried east of the big home in Etna, under a huge tree, in a beautiful field of alfalfa. Unfortunately the tree and fence were removed, and the graves plowed into the rest of the field.
At the time Mr. Smith saw fit to leave Laura, they were living at Buckskin Springs with her parents, who later moved into (Lost River) Mackey, Idaho.
When Laura married Richard E. Warburton she had the two children, Martha Jane and Henry Leroy Smith. The new home began with the two children and Richard E's. brother, Thomas Warburton, living with them. Richard E. and Laura had six sons:  Ernest, Tom, Mark, Dell, Ross, Karl and three daughters:  Mabel, Amy and Pauline, numbering nine happy children, in that happy home.
Laura was ambitious, an excellent manager, beautiful, desirable, and devoted.
During their marriage, a long dreamed-of plan was fulfilled. A fine, new, modern and beautiful home was built from native sandstone, cut in uniform sizes, and set together with hard, white pointing, a symbol of their perseverance. James, Richards' brother was engaged as carpenter on the new home. The home contained thirteen spacious rooms, including a rock-walled basement. In the beginning, all of the lumber was hauled by wagon from Nevada. It was built of elegant, white sandstone with a bluish tint. The stone was quarried in a nearby mountain, blasted loose, then hauled to the building site and hand-hewn to the proper-sized blocks. What a hard, tedious job that was. When construction reached the second story, ropes and pulleys drawn by a horse hoisted the heavy blocks to the upper levels. They were fortunate to employ an expert plasterer, who finished the job with a coating of plaster-of-paris, which allowed the paint to have a smooth, glowing finish.
The home was built near a natural spring, and a well was dug in the basement, with a hand-pump, up in the kitchen sink, to bring up the clear, cool water. It took eight years to complete this stately home. The home was beautifully furnished and carpeted with a rich, maroon dyed-carpet loomed by Laura.  Many families (of kids, particularly) congregated for all sorts of romping, laughter, and love.
Laura died on December 15, 1932 and is buried in the Grouse Creek Cemetery.