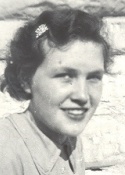 Evva Lee Deakin was born February 15, 1923 in Grouse Creek, Utah a daughter of Isaac Franklin  and Orita Ellen Richins Lee.
Her brothers and sisters are: Franklin Ray, Russell A, LaVern, Irene, and Juanita.
She was reared and educated in Grouse Creek and graduated from Ogden high school. In 1944 she moved to Tremonton, Utah for eight years and then to Ogden, Utah.
She worked at the Snappy Service Cafe and for Internal Revenue Service.
Evva married Bert Deakin on May 18, 1944 in Ogden, Utah. Her children are; Frank, Evalene, Jeanette and stepchildren Bert, JoAnn, Nedra, and Shauna.
She was a member of the LDS Church and served as a Sunday School teacher and a member of the MIA Stake Board.
Evva died on January 9, 1974 and was buried in the Riverview Cemetery, Tremonton, Utah.