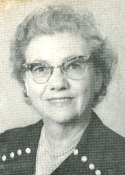 Bertha Taylor was born on May 21, 1901 in Almo, Idaho to Herman H. Taylor and Sarah Durfee. She was born on her mother's birthday. She was the third child and first daughter.
Mother had five brothers: Arthur (Art), Fredrick (Fred), Wilbur (Willo), Elmer (El), and Zennith (Zen). She had two sisters, Margery
(Marg) and Eyvonne (Von). They all had nicknames. Bertha's was (Bert).
Herman Taylor, her father, made his living on his ranch with milk cows. At an early age mother did most of the housework and helped milk the cows. Her personal history tells of several humorous incidents.
Mother went to the eighth grade in Almo and six months of high school in Oakley, Idaho.
Almo, Idaho was the Stake Center in 1919. Grouse Creek Ward was in that Stake. The MIA had a talent show once a year at theStake Center. This is where Mother met Joseph A. Kimber. They started dating in the summer of 1919. When her father sent for her to come home from school in Oakley she and Dad decided to get married. They were married in the Salt Lake Temple on April 8, 1920.
They lived on the Kimber Ranch twelve miles south of Grouse Creek with Dad's folks until September 1, 1920. The Kimber Brothers bought the "Morris Place," a ranch in Etna, Utah from Tom Thomas, so they moved to Etna. Mother was happy to be the mistress of her own house. Eula was born here on January 2,
1921. Mrs. Ellen Blanthorn assisted as a midwife.
Dad's brothers spent many hours with them helping with the crops. The second year Uncle Lawrence and Aunt Nola came to live in part of the house because they didn't want to live with Aunt Nola's folks.
Viril Jr. was born on March 5, 1922. Again, Mrs. Blanthorn assisted. With two babies, Mother said she really needed a washing machine, so Dad got one for her. She said in her history that it had a wringer. Up until this time she scrubbed on a washboard.
The Kimber Brothers lost the Morris Place in 1923 so Mother and Dad moved back to the Kimber Ranch. Dad's mother and father moved up to Grouse Creek into the log home. On the ranch Mother, Dad, Viril and Eula lived in part of the main house with Uncle Ted, Aunt Emma, Kendall and Velma in the other part. Uncle Bill, Aunt Bertha, and Barbara lived in a cabin next to the main house. We kids caused lots of challenges for the parents.
In the fall of 1926 Mother and Dad decided to move to Salt Lake City where Dad had secured work as a salesman and to work at Utah Power and Light Company. We lived in a home on 1717 Atkins Avenue.
Mother became very ill while in Salt Lake. She went to Almo for the funeral of Grandma Durfee. While there, the illness left her. When she returned to Salt Lake the illness returned. Grandpa Kimber had been trying to persuade Dad to move back to Grouse Creek. Grandma Kimber died while we were in Salt Lake so Grandpa lived alone in the log home in Grouse Creek. Dad and Mother decided to move back to Grouse Creek in November. We lived in the front two rooms of the log home.
Lela Jane was born in the log house on May 7, 1928. Mrs. Blanthorn assisted Mother again. When Mother hemorrhaged in the birth Mrs. Blanthorn had her sister Mrs. Hadfield come to help her. It took both midwives to save Mother. She came very close to dying.
Irvin Gerald was born in the Dee Hospital in Ogden, Utah, on December 16, 1932. Mother needed a doctor's care for this birth.
Dad and Mother worked at the Grouse Creek Co-op for eleven years. Lela's husband, John Runyan, offered Dad a better job in Denver so Dad accepted. They moved to Denver, Colorado on March 5, 1956 and rented their home to Val and Hattie Tanner.
While in Grouse Creek Mother served in all the organizations, Primary, Sunday School, Relief Society and Young Women's. She especially enjoyed her Sunday School class and their extra activities.
Dad and Mother were called to serve a mission from the Denver 6th Ward on August 9, 1956. They were interviewed and set apart by Elder Elray Christiansen on October 14, 1956 to the Easter States Mission. They entered the Mission Home in Salt Lake City, Utahon November 7, 1956.
Dad died at the Peter Whitmer Farm in New York on October 9, 1957 so Mother was honorably released from the mission.
Mother didn't come back to live in Grouse Creek. She went to Almo, Idaho to take care of her parents until their death. She then went on her second mission from the Grouse Creek Ward to the Gulf States Mission. She was released on December 19, 1964, after serving eighteen months.
Mother sold the home in Grouse Creek to Val and Hattie Tanner. She moved into a home in Salt Lake on Cheyenne Street.
Mother joined the Grandparent Program in August 1967 and worked at the Primary Children's Hospital as a foster grandparent. She was moved from the hospital so that she wouldn't have to drive so far. She worked at the Jackson School for one year. She was then sent to the Garfield School for a few months. The program finally sent her to the Neighborhood House, a school for low income families. She has loved working with these children. Mother has been a foster grandparent for thirty years, and is still with the Program. (1997).
Lela decided to build a duplex on Park Street in Salt Lake so they sold the house on Cheyenne Street. Mother moved into the duplex with Lela living in one and Mother living in the other apartment.
Mother was operated on for a perforated ulcer in January 1996. We came close to losing her, but she survived the operation and has gone back to working at the Neighborhood House. A handicap bus picks her up at home, takes her to work and brings her back each day. She works four hours, Monday through Friday.
Mother was ninety-six years old on May 21, 1997. Life has been a struggle at times, but she has had many wonderful experiences in the service of many children.
Bertha passed away on October 5, 1998 and was interned in the Grouse Creek Cemetery.