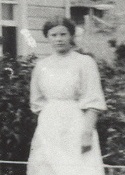 Clara Elizabeth Cook Chadwick was born in Tooele, Utah on May 8, 1875. She is the daughter of Elizabeth Ann Kimber Cook and George Adelbert Cook. She lived in Grouse Creek, Utah with her parents until December 15, 1898 when she was married to Charles Chadwick of Park Valley, Utah.
They subsequently lived in Oakley, Idaho, Brigham City, Utah, Perry, Utah and Wolf Creek, Montana.
They were the parents of seven children. One son died as a baby and they raised one grandson.
Clara died on June 8, 1957 in Helena, Montana and is buried beside her husband in Forestvale Cemetery in Helena.