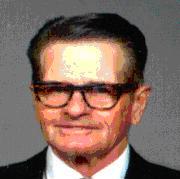 Orva Wilford Richins was born on January 05, 1909 in Grouse Creek, Utah, to Wilford and Lillian Paskett Richins, their first born child. He had a happy childhood, but had very little formal schooling. The school in Grouse Creek went to the sixth grade and a lot of boys and girls only went to the third grade because they needed to help work on the ranches to bring money in for the family. Orva was no exception. No one really knows how much or how little formal schooling he had. He helped his Dad with the horses and cattle and his education (like his Dad's) was obtained at the University of Hard Knocks.
When he was just ten years old, his Dad was called on a two year mission to North Dakota to labor with the Indians. At that time Orva had three little sisters – Sarah, Elsie, and Lucille. Their mother had a lot of help from relatives to care for the children while their Dad was on his mission. The whole family was very happy to see their Dad return when his mission was finished.
As Orva got older he helped more and more with the horses and cattle and hay. Cutting and putting up the hay was very important in Grouse Creek.  The hay was needed to feed the animals in the winter. Horses were a very important commodity there also, and it was always necessary to catch and train (break – as it was called) new horses to work in the hay as well as for riding. Orva helped his Dad do that, and as a result, he learned how to break horses at an early age.
When he was 13 years old his Dad became the Bishop of the Grouse Creek Ward. During this time, a sister Myrtle, a brother Curtis, and a sister Leola were born. Curtis lived for only three days. When Leola was born, on Christmas Eve, their mother Lillian, who had been ailing for quite some time, passed away that same night. This was a very sad time for the entire family. Orva was only 16 years old at the time.
Hattie Lovina Paskett (Lillian's half sister) became the fulltime baby sitter (Nanny – they call them now) for the family and life went on. Times got rougher in Grouse Creek. With the lack of water, fewer crops could be grown. A lot of people were looking elsewhere to make a living for their family – and so it was with Orva's Dad with six children. In 1927 Wilford and Hattie were married and decided to move the family to Declo, Idaho, which they did.  They moved into a house which was located on a 40 acre farm 2 miles south and 1 ½ miles west of the town.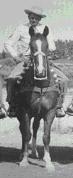 The girls started school in Declo, but Orva felt like he needed to work and so he did. For two or three years he went back to Grouse Creek and worked in the hay fields. He also found work on his Dad's farm and for other farmers around Declo.
In 1930 Orva rented a 40 acre farm in the Declo area. That same year he met Sallie Elizabeth Johnson at a swimming party and a courtship followed. On April 10, 1931 they were married in Laketown, Utah. They lived in a little house on the corner just ½ mile east of his Dad's farm. Their first child, Joy, was born there.
By 1934 they wanted to buy their own farm, so Orva asked a friend of his, Jack Simplot, if he could accept a note from him and Beth to buy Jack's farm. Jack had been quite successful in the potato business and had a little more money than some people at that time. Jack took the note and Orva& Beth bought Jack's 80 acre farm just ½ mile east and ½ mile north of his (Orva's) Dad's farm. They lived there for the rest of their lives.
The next several years were pretty lean for everyone – not just the farmers. The Great Depression had come and everything was expensive and people had no money to buy anything. On August 17, 1937 their second child, O'Neil was born. Orva was proud of his children and of their many accomplishments.
Orva liked to go hunting and in the late 1930s and early 1940s during the 2nd World War, he and a brother-in-law, Albert Johnson, would go deer hunting to put some meat on the table. Quite often they would go jack rabbit hunting at night. They would get paid for the pelts. The area between Burley and Oakley was not being farmed at that time and there were thousands of rabbits. They would go at night because the rabbits would be out feeding. They would take Orva's two little brothers, Gayle and DeVerl, to drive. He and Albert would sit out on the fenders of the car with one leg straddling a head light. They were both pretty good shots with their .22 rifles. Orva shot a rifle left handed. That meant he would couch the gun stock into his left shoulder and hold the barrel with his right hand. They would sometimes just throw the dead rabbits into the trunk of the car or they would drag a small trailer. In later years when the car was sold it still smelled of rabbits.
During World War II a Sheriff's posse was formed in Burley and the original members were actually deputized. Several times they were called to go into the mountains looking for lost men or those whose plane had crashed. In later years, the posse became a horseman's group that performed in parades and rodeos. Orva and his Dad were charter members of that posse and remained members for the next 30-40 years.Most of the time while riding in a parade or a rodeo performance, Orva was one of the flag carriers. The horses he rode were never spooked of a flag.
On the 7th of May 1945 Orva and Beth were sealed for time and eternity in the Salt Lake Temple, and their children were sealed to them at that time. Orva passed away on March 02, 1996 at his home in Declo. He is buried in the Declo, Idaho cemetery.