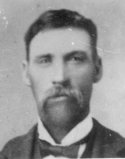 Valison Tanner Sr. was born on September 17, 1853, a son of Thomas Tanner and Ann Newman Tanner. He was born just as the pioneers came into the Salt Lake Valley and, therefore, was named "Valison." They camped a few miles distant from the city, (near what is now Echo, Summit County). The family moved to Tooele on November 5, 1853. He had two brothers, Moroni and Allen Newman and one sister, Jemima Mumford Tanner.
Thomas Tanner had been married before to Mary Cruse and their children were:  Thomas Tanner, James Mumford, baby son (stillborn), William, George, Ebenezer, Joseph, Alma C., Mary (died in infancy), son (lived six days). Mary Cruse died in childbirth and a year later on October 10, 1852, Thomas married Ann. Thomas died on July 28, 1879.
When the children were young, they were in very hard circumstances, having little schooling as they had to pay such a high fee and the family was very poor. Many times the family sat down to a meal of dandelion greens or pigweed greens, and anything else they could find such as rabbits, sego-lily roots and anything to fill them up. Sometimes some neighbors would give them some milk and they would think it was such a treat to have some bread and milk. In Tooele the family often had candy-pulling and played checkers and cards. They had their own orchestra with harmonicas, Jew's harp, violin and accordion. Allen and Jemima would dance as the others played.
Valison, with his half-brother, Alma C., were the first settlers on the west side of Grouse Creek. They came from Tooele in the year 1875. They were attracted there because of the acres of natural meadows. They brought the co-op herds from Tooele to feed in the meadow lands.
In 1878, the settlers on both forks cleared land and raised some grain.
He bought the Death Valley Ranch from Charles Smith and hired Amanda Morgan Barlow to keep the house for him, thus giving her and her four children by her former husband, Joseph Smith Barlow, a home they needed. Her children at that time were:  Joseph Smith Barlow, Alice Ann, Mary Emily and Jesse, who was born after his father died.
On October 15, 1887 Amanda Morgan Barlow and Valison Tanner were married at this home by Benjamin F. Cooke, Justice of the Peace. They were married in the afternoon and all the relatives were present. In the evening, neighbors and friends and cowboys from the Sparks and Herald Outfit in Nevada came and participated in an old-fashioned dance. Alma Tanner and Frank Hales were the orchestra, each playing the violins. They danced until midnight then lunch was served. After lunch the dance continued until dawn. Breakfast was served to the family and also the cowpokes who had many miles to ride on horseback to return to their work.
Valison and Amanda had four children:  Thomas Lester, who only lived three days, David Ralph, Valison Jr., and Olive. Because they were married civilly, their children were automatically sealed to the first husband. Amanda felt sorry for him so she sought special permission from the prophet Lorenzo Snow to have Valison sealed to a person who was already deceased and apparently had never married (Mary Turner). She also got permission for the boys to be sealed to him. She kept Olive sealed to Joseph and herself and their children.
The home they lived in was a four-room log house, with a dirt roof, a cellar built up with rock on the inside, making it very cool for summer. All the houses in the community were built in this manner.
Life on the ranch was a busy one for all. There were always lots of relatives and company dropping in to stay overnight and sometimes longer. A short time after their marriage,Valison's mother, his two brothers, Moroni and Allen and his sister, Jemima, came from Tooele and made their home with them for some time.
The culinary water used in the home was obtained from the irrigating ditch, which ran by the house. About 100 yards up on a hill west of the house was a spot where wild rose bushes were growing. Valison got the idea that there may be water close to the surface. The men folks dug a tunnel into the hill twenty five or thirty feet and a spring of ice cold water came bubbling up. For several years the water was carried from this spring and in time it was piped into the house.
All went well in their life until the last week in September 1906 when Valison fell from a load of hay, his head striking a post hole, which broke his neck. He lay paralyzed from his armpits down for six weeks. He died on November 13, 1906 and was buried in the cemetery at Grouse Creek, Utah.
Because Valison was sealed to Mary Turner, Olive grieved over the situation. She loved her dad and felt bad that she was not sealed to him and to her brothers. After Olive died the church changed its policy and women who had passed away but had been married to two men could then have their descendants seal them to both men.
So, Verna gathered up Dorothy, Delma, Clark, and a few cousins that were interested and we stood as proxies in the Salt Lake Temple for Amanda, Valison, Val, Ralph, Olive, and  Thomas Lester and sealed them as a family.