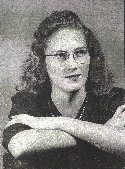 Edith Lee Rasmussen was born on September 16, 1923 in Montello, Nevada, the daughter of Edward and Rhoda Annie Paskett Lee. They were living in Montello because her father was working on the railroad at this time.
In 1927 they moved to Etna, Utah, just five miles north and a little west of Grouse Creek, then in 1928 the family moved to Oakley, Idaho where she attended school.
She married Arvel E. Rasmussen on June 5, 1946, in the Idaho Falls LDS Temple.
Their children are:  Irene, Janine, Anita, Norman E., Arlen L., and Russell J.
She was an active member of the Church of Jesus Christ of Latter-day Saints and served in the Young Women's organization for several years. She and her husband served a mission in the Connecticut Hartford Mission microfilming genealogy information.
She enjoyed doing crossword and jigsaw puzzles.
Edith passed away on April 8, 1995 at Cassia Memorial Hospital in Burley and was interred in the Gem Memorial Gardens, Burley, Idaho.