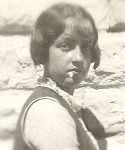 Marie Roberts Whitaker was born November 7, 1921 at Grouse Creek, Utah a daughter of Hugh and  Louise Kimber Roberts.
Her brothers and sisters are: Sarah Elizabeth, Ray, Byron, Vern, Mary, Morgan, Rex Clifford, Joy and Elva Colleen.
She was reared and educated in Grouse Creek, Utah.
Marie married Dale Whitaker on July 29th, 1941.
Her children are: Bruce, Carol, and Connie.
She and her husband co-owned and operated the Fall River Dry Cleaners in Fall River Mills, California for 20 years retiring in 1982.
She was a member of the Church of Jesus Christ of Latter-Day Saints.
She died August 24, 2000 and is buried in the Fall River Mills Cemetery