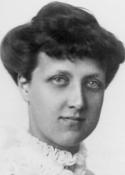 I Emily Annie Ballingham, was born January 25, 1889, at Arle, Gloucester, England.  My parents were William Ballingham and Emily Harriet Evans.  My early childhood was spent in Arle, Pilgrove and Hardwick.  My school days were spent in St. Marks and Hardwick schools.
My parents were rather poor and mother used to take in washing to help provide a living for us.  I had four brothers and one sister. Charles William, Albert James, Ellen Sarah, Arthur Godfrey, and George Edward.  I used to take care of my younger brother George, take home the washing Mother had done and gather food for the pet rabbits.
I wasn't very old when the Mormon Missionaries came to our home.  Many times Mother and Father have given up their bed to the Elders, while they slept on the floor or in a chair.  My parents became interested in the message brought by the missionaries, and they visited our home often.  As a result of their visits and teachings, my parents were converted to the gospel and were baptized on February 28, 1887 by H. E. Bowing.  I was baptized on May 12 1898 in a large bath tub.
From that time on my school friends and playmates refused to speak to me because I was the only Mormon child in school.  They called me the little "Mormonite."  I used to cry and asked my parents what a Mormon was.  I thought it must be something terrible when none of my friends would speak to me.  My school teacher noticed how the children were treating me, and when she learned I was a Mormon she said all parents and their families had a right to join whatever church they wished to join.  She asked them to be friendly with me and when they learned I was going to leave very soon to go to America, they all treated me kindly for the rest of the time I was with them.  This little incident shows the effect parents conversation has on young children, who were too young to understand what the word "Mormon" really meant.
In May 1889, when I was nine years old, we left England to come to America.  I cried and said I would be sick.  I was very ill crossing the ocean and spent most of the time in my bed.  It seemed everything the Doctor and Nurses did for me failed, and I was not expected to live.  However, God blessed me and when we landed in New York on Decoration Day, I was well enough to go up on deck.  The Mormon Elders had been very kind to me and sent me oranges, apples and other fruit.  We were nine days crossing the ocean.
We came by train to Ogden, Utah.  There Brother Sam Kimball (the man who loaned us the money to come to America) and Brother William C. Betteridge Sr., met us.  Brother Betteridge had visited our home many times while on a mission to England.  It was he who arranged our trip to America.  We came from Ogden to Grouse Creek with team and wagon.  The roads were rough and it was a long tedious trip.  We were not used to this way of traveling, and we had always had good roads in England.  Everything here looked so dry and barren.  We were used to beautiful green fields, trees and flowers.  During the first summer my brother Godfrey and I stayed with Brother and Sister Betteridge.  They were very kind to us.
Before winter came our family moved into a two room log house with a dirt roof.  We had no chairs, only wooden boxes, and our beds were on the floor. The floor was without any kind of covering.  I attended school here until I passed the fourth grade, then spent one winter in Oakley, Idaho where I passed both the fifth and sixth grades.  I spent one more year in school at Grouse Creek, and was promoted from the seventh grade.  This completed my public schooling.
Rulon, Emily, Elmer, Annie, Elmer and Dennis Kimber (in front)
As I grew older, I became active in church and civic activities.  I was secretary of the Y.W.M.I.A. for about six years, and took an active part in dramatics, in which I was very interested.  I also took an active part in the ward choir and was a member of it for many years.
I was married to Elmer Kimber in the Salt Lake Temple on December 15, 1911.  At that time I was twenty two years of age, and Elmer was twenty nine years of age, being seven years my senior.  We lived in one room the first few years.  We were blessed with four children, three boys and one girl.  They were Emily Harriet, Lyman Elmer, Rulon Wendell, and Dennis Morgan.  Rulon was killed on January 24, 1945 while serving with the armed forces in the Philippine Islands during World War II.  This was the first great sadness to enter our home.
Since my marriage I have been a Sunday School teacher in the Church History class for about twenty four years.  I was also Junior Girl leader in the M.I.A. for one year, 1st Counselor of M.I.A. for about four years, and was a member of the choir for many years.  I have also been a Relief Society visiting teacher for the past eight years, and I am still holding that position.
Mother was very interested in Genealogical work and I spent many hours helping her during the past twenty eight years, collecting Genealogy and keeping up her correspondence in that line.
In closing this short history of my life I want to thank God for the Missionaries who brought the Gospel to my parents in far off England, and that they accepted it and brought all their family here where we could enjoy the blessings of the restored Gospel.  I am thankful for the testimony I have of the Gospel and of my faith in prayer, for God has answered my prayer many times.  I'm also grateful for the privilege afforded me of working in the different organizations of the church.  I have enjoyed my associations with both young and old.  I hope and pray that I will always have faith and courage to stay true to the faith the rest of my life.
Annie was 97 when she passed away on March, 19, 1986. She is buried at the Grouse Creek Cemetery in Grouse Creek, Utah.
This as told to Lorraine Hardy Kimber at Grouse Creek, Utah.