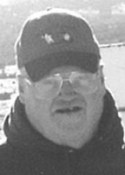 Allen Gary (Goob) Tanner was born April 10, 1949 in Brigham City, Utah the son of Herbert A. Tanner and Vera Kimber Tanner. His brothers and sisters are: Marjorie, Norma, Eileen, Barbara, Merle, Floyd, Darrell, Audrey, Shirley, and Donald.
Allen attended grade school in Grouse Creek, high school in Brigham City, and college at Weber State University. After college he returned to Grouse Creek and spent the rest of his life in cattle ranching. He managed Tanner & Tanner Enterprises, a cattle ranch, for than 20 years.  He also worked for the State of Utah and Nevada as a State brand inspector and as a bangs vaccination technician. Allen had a passion for TV sports, particularly baseball, football, and basketball. He loved a good rib eye steak, a good buffet, talking and traveling with friends. He also appreciated a good horse and quality cattle. When Allen was very young his dad called him "Allie Goober" and the nickname "Goober" or "Goob" stuck with him all his life.
He was killed in Grouse Creek, Utah November 24, 2006 in a horse related accident, doing what he loved, riding his horse and tending his cattle.  Allen is buried in the Grouse Creek Cemetery.