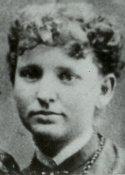 Martha Louisa Cooke Richins was born January 21, 1869 in Gainesville, Tooele County, Utah a daughter of Charles Morris and Ann Marie Fawsen Cooke.
Her brothers and sisters are: John, George, James, Jane, Annie and Charles
She married Arthur Joseph Richins on April 30, 1890 in Logan, Utah
She had one son, Charles Archie.
She died in Grouse Creek, Utah of Brights disease on January 5, 1895 and is buried in the Grouse Creek Cemetery.