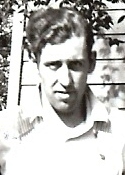 Charles Eldred Kimber was born in Grouse Creek, Utah on January 29, 1904. He was the first of five sons born to Charles William and Agnes Malinda Jones Kimber. His brothers are Warren Vaughn, Evan Lamont, Myron George and Francis Russell.
He started his sheep herd by gathering little lost lambs when Ogden State Bank would trail their lambs to winter range through Cotton Thomas Basin. He raised these lambs as "bum lambs" or "lepey lambs."  Also to buy lambs, he earned money by working in what they called the coyote holes" down in Lucin, Utah. The workers would put dynamite into holes and haul out the gravel. This gravel was used to fill the lake for the Lucin Cut Off for the Southern Pacific Railroad. Many of the young men from Grouse Creek worked on this project to earn money. When Eldred moved to Ogden he had between 100 and 150 sheep and he sold them at this time. Most of them were ewes.
Eldred bought his first car, a 1925 Model T Ford, from money he earned in the coyote holes. The driver's side of this car did not have a door. There were two doors for the rear passengers and one on the passenger side of the front but no door for the driver.
In his youth, Eldred did a lot of haying. He would go to Nevada with his Uncle Elmer and Uncle Oz on haying contracts they had in Nevada. It is estimated they made about a dollar a day for their work.  One day while he was putting up hay with his father, a rabid coyote kept circling the hay field.  Eldred killed the coyote with a pitch fork.
Eldred also broke horses to earn money. In one instance, he broke three horses for Ross Rytting, a grey, a sorrel and a brown horse. The agreement was after breaking the three, he got to keep the one he wanted as payment.
He was always a hard working man. He believed in doing a job to the best of his ability. Eldred worked from sun up to sun down almost every day of his life. He loved to play as hard as he worked. He played baseball and basketball on the Grouse Creek teams. After moving to Ogden he pitched on one of the Ogden Recreation baseball teams.
Eldred loved his family. He was proud of his heritage and progenitors. He appreciated the many sacrifices his parents made and did his best to take care of them all his life.
He was a perfectionist. As the neat and tidy person he was, he believed everything had its place and when you were done using something, it had better be put back in its place.
Evan, Eldred, Vaughn, Agnes Malinda, Myron & Russell Kimber
He always took care of his dirty clothes. They were never left laying around on the floor. He always put them in the dirty clothes hamper or if they were not dirty, he hung them up. He always washed the sink and the bathtub after using them. Leaving a dirty tub for someone else to take care of was on the top of his list of bad manners.
Eldred's father suffered from rheumatoid arthritis and his mother thought it would be better for him if he was closer to a doctor. So in 1928 they moved to Ogden.
Shortly after moving to Ogden, Eldred went to work for the American Packing Company. It was there he met the love of his life, Gwen Holman. In his own words, he said, "The first time I saw her, I knew she was the one for me."  They were married in the Salt Lake Temple on May 29, 1931. They had five children, Eldred Dwane, Ila (Stewart), Warren Verl, Doyle Ray and Beth (Saunders). They have nineteen grandchildren and twenty-six great grandchildren.
Family get-togethers were a regular happening. When the family was young, they spent a lot of time up Ogden Canyon on picnics with Vaughn and Goldie and Evan and Agnes. The men would have contests to see who could push the kids the highest in the swings. Baseball, horse shoes and cards were some of the favorite activities on these picnics. Eldred was good at  all of them. When he played pinochle, he remembered every card that had been played. On Saturday nights, they would play pinochle into the wee hours of the morning while the kids slept under the table at Vaughn and Goldie's or Archie and Elsie's house.
Eldred was a butcher. He worked on Saturdays at the old O.P. Skaggs store in Ogden to help support his young family. After leaving American Packing, he went to work as a route salesman for Ogden Dressed Meat Company. He later started his own route. He delivered meat and Wonder Bread products up Weber Canyon from Morgan to Camp Killcare above Kamas. He enjoyed his work and all his customers liked him. He was a fun and reliable person. The only time he did not cover his route his own self was when he was in a truck accident and was in the hospital. He made sure his customers were taken care of while he recuperated.
After retiring in 1968, Eldred and Gwen spent two or three days a week at the Ogden Temple. They did innumerable sealings for other people. They loved doing this work.
Their Fiftieth Wedding Anniversary party was one of the highlights of their lives. They were thrilled at seeing all the family and friends that attended. You can see Eldred's eyes twinkling as pictures of him kissing his bride of fifty  years in front of the wedding cake, were taken.
You could always plan on planting the garden on the Saturday closest to the fifteenth of May. He insisted on a large garden even after all the kids were grown and left home. There was enough to feed the whole neighborhood. He took great pride in having a garden with straight rows and kept it hoed and weed free.
One of Eldred's favorite things to do was to go hunting with his father and brothers. They would hook up the horses, put hay in the wagon and go over to theCotton Thomas Basin and hunt for a week. After Eldred moved to Ogden, he returned to Grouse Creek every fall to hunt deer.
While growing up in Grouse Creek, Eldred attended many of the church dances. He loved to dance, was a good dancer and took his wife to the Berthana Ballroom in Ogden to dance on Saturday nights.
Eldred was a member of the Fraternal Order of Eagles. He was a member of the Church of Jesus Christ of Latter-day Saints. He served in the Elders Quorum Presidency, as a Home Teacher and was a High Priest at the time of his death on April 4, 1985. He is buried in the Memorial Gardens Cemetery in South Ogden next to his beloved wife and two of his brothers and their wives.