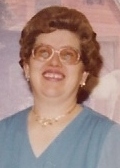 Nola Berneice Kimber Hansen was born January 15, 1940 in Ogden, Utah a daughter of Lawrence J. and Nola Mary Richins Kimber.
Her brothers and sisters are: Clifton, Elva, Ivy, Norene, Myrna, Jeneil, Wayne and Glen.
She was reared and educated in Grouse Creek, Utah and Brigham City and graduated from Box Elder High School in 1958 where she was involved in music. She sang numerous times on the radio and around the Brigham City area with two of her sisters.
Her first marriage ended in divorce. She then married H. Roy Hansen Jr. on April 20, 1962 in the Logan LDS Temple. They settled in Sunset, Utah where she resided until her death. Her children are: Melinda, Tina, Robert J., Randall G., Rick R., Ryan W., and Russell L.
She worked in several places over the years including Peach City Ice Cream in Brigham City, Internal Revenue Service, Hill Air Force Base,Brighton Girl's Camp at Brighton Ski resort in Salt Lake, and Clearfield High and Davis School District as a school lunch cook.
She also prepared taxes and for nearly 30 years catered dinners to many Northern Utah organizations including Quarter Promenaders, H&R Block and many others.  She was known for the delicious meals she cooked and served.
Berneice was a member of the LDS Church where she held many callings over the years. She was greatly valued for her music ability and most of her callings were in that department. Her favorite calling was teaching the children Primary songs. She always said that it was the best job in the church and she was very good at it.
She passed away on April 4, 1996 and is buried in the Clearfield Cemetery, Clearfield, Utah.