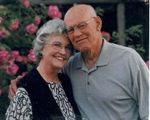 Eve was born on March 7, 1929 to humble, God-fearing parents, Valison and Margaret (Hattie) Tanner, the third of six children, and lived in the Etna/Grouse Creek area, located in the northwest corner of Utah, for the first 16 years of her life.
Her brothers and sisters are:Mervin, Fern, Max, Fae and Monte.
Eve then moved toTremonton to attend Bear River High School, graduating in 1946.
Throughout Eve's life, she continued to enjoy getting together with her high school friends whenever possible.
After high school, Eve moved to Ogden, first working at First Security Bank and then Hill Air Force Base. She met Robert W. Davis in 1948 and they were married in August 1949. They have one daughter, Debra. Eve was a hard-working, stay-at-home mother and wife until their divorce in 1966.
Then, Eve settled in Ogden working as the Office Manager of the Eccles Building. As a single mother, in a time when this was not all that common, she was determined to succeed and build a good life for her daughter and herself. She was successful: she bought a home for them to live in; she became a successful business woman in the community; and she remained true to her religious beliefs. In her "spare" time, Eve enjoyed sewing, oil painting and reading.
In the late summer of 1970, Eve was enticed to go on a "blind date," which ended with her marrying Dr. JD Mortensen, a prominent thoracic surgeon and widower from Salt Lake City, in the Salt Lake City Temple on December 23, 1970. Not only did she marry the man of her dreams, she also inherited the care of 9 children, thus completing her aspiration of having a home and life filled with children. Eve took the responsibility of being a step-mother very seriously realizing there is nothing more sacred than being entrusted with the care of another Mother's children. The children are: Jay, Glenn, Spence, Doug, Sarah, Deborah, JoAn, Patti, and Richard.
JD and Eve were married for over 34 years, during which time they built their home and life in Sandy, Utah, Eve was a docent at the LDS Church History museum, volunteered at a local elementary school, JD and Eve traveled extensively, and actively participated in several study groups, while trying to stay as close to, and supportive of, their children and grandchildren, as possible. JD passed away in June 2005.
On May 5, 2009, our Mother, Grandmother, Great-Grandmother and Friend, Eve, was released from her earthly body to return home to her Heavenly Father. Eve suffered from the horribly debilitating disease of Alzheimer's for the final eight years of her life.