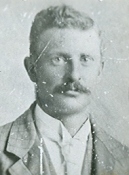 George Sanford Cooke was born April 9, 1873, in Grantsville, Utah, a son of Charles N. and Annie Mari Fawson Cooke. He had a brother, James Cooke.
He was married to Sarah Mecham on October 23, 1896, in the Salt Lake Temple. They had the following sons and daughters: Elizabeth, Mary, Sarah, Louise, George W. Cooke, Zinah, Martha, Anne, and Ester.
George Sanford Cooke, 82, died Tuesday in the Tremonton hospital after an illness and is buried in the Tremonton Riverview Cemetery.