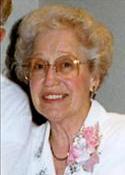 Amy Hadfield Petersen (better known as sweet Amy, this is Myrls' insert, bless her heart) entered this world with the help of Grandma Hadfield on Sept. 15, 1921 into the humble home of William and Grace Viola Jorgensen Hadfield of Grouse Creek, Utah. Her parents are William and Grace Jorgensen Hadfield. Amy was the seventh of ten children and enjoyed a happy, carefree childhood and school days. Amy spent her early years in Grouse Creek on her parents' farm. She was educated in Grouse Creek, Utah before moving to Logan.
Their father, William died in 1929 just 2 days before his 43 birthday after being hospitalized for several months.
She followed the lead of her siblings by attending and graduating from Logan High School. After graduation she joined the work force having a variety of job experiences. She worked a short time at a cannery in Brigham City, Utah, then as Telephone Switchboard Operator for three years in Logan.
Looking for greener pastures, she attended Utah State Agricultural College and secured work in the Triple A Office at Logan, Utah for three years. She met and fell in love with LaMoyle Petersenat the Dansant dance hall while he was home on leave from training in the Army Air Corp. They were later married in the Logan Temple on June 10, 1946.
Together they lived in an apartment in Logan for a short time and then bought a home in River Heights where they resided for 58 years.
Amy was a wonderful mother and homemaker. She was also a very good seamstress and eventually ended up working for her brother, Max, at Trend Interiors for a number of years sewing drapes. She made the drapes for her "house on the corner" as well as for most of her children's homes. Amy sewed the boys shirts and pants and the girls dresses. She made beautiful prom dresses and would tailor store bought clothes to fit perfectly. Amy also did hand-work and made temple aprons for her children and most of her grandchildren when they got married in the temple. Following in her mothers footsteps she made quilts for her children and most of her grandchildren. Amy was a good cook and was known for her rhubarb, pumpkin and pecan pies as well as her rhubarb crunch and homemade cookies. Amy bottled fruits, vegetables and even fish and deer. She made wonderful jams and jellies and froze corn. She was very thrifty and didn't like to waste what was given her.
Amy was an active member of The Church of Jesus Christ of Latter-day Saints, serving in many positions in Primary and Relief Society with a humble heart.
After Silvin's retirement, Amy and Silvin worked in the Logan LDS Temple as officiators until Silvin's health started failing.
LaMoyle and Amy are parents of seven children, Craig, Larry, Kim Petersen, Danny, DeAnn, Debra and Tanya.
Amy left this world peacefully in her sleep on Oct. 8, 2007, at the age of 86, joining her eternal companion, parents, two brothers and two sisters.
Funeral services where held on Oct 12, 2007 and she is buried in the Logan city cemetery.