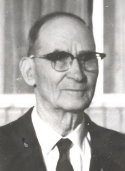 Joseph Valentine Lee was born February 14, 1886 in Grouse Creek, Utah a son of Joseph Bracken and Mary Ann Mecham.
His brothers and sisters are: Fearzmore, Mary Ellen, Isaac Franklin, William, Edward, Lorenzo, Hannah Bell, Lucius, Casper Earl, Lester and Alfred.
He attended schools in Marion and Grouse Creek. He worked for the Twin Falls Canal Company, constructing canals to irrigate land south of the river. He worked as a rural mail carrier delivering mail from Oakley to areas south including Vipont Mine on horseback. He played drums and piano for the Lee and Kimber Band. He served a mission for the Church of Jesus Christ of Latter-day Saints in England.
Joseph met Laura Edna Brizzee White in Grouse Creek. Laura had two sons by a previous marriage. They were married 22 June 1915 in Almo, Idaho. They were sealed in the Salt Lake Temple on 6 October 1915. They made their first home in Grouse Creek on Kimball Creek. Their first born (twin girls, Edna and Ella) were born on April Fool's Day, 1916 (April 1). Their next daughter, Idella, was born 8 August 1918.
Joseph operated a saw mill in Yost, Utah. A son, Norman, was born 11 March 1921. A new stake was organized and Joseph and Laura were asked to go to Malta, Idaho to assist in its organization. He moved the sawmill to Black Pine. While in the Malta area three daughters were born to Joseph and Laura: Myrtle, 14 November 1923; Grace, 3 March 1926; and Elsie, 7 August 1928. They later moved to Heyburn, Idaho where their last child, Arlo was born 10 March 1931. Joseph operated his saw mill in Heyburn for several years. During his later life he was a carpenter.
Joseph served faithfully in the MIA, Sunday School, and in the High Priests Quorum. He was a faithful home teacher.
Laura Died 25 September 1965 in Heyburn, Idaho.
Joseph married Loylla Munsee Draper on 30 August 1972 at Elko, Nevada. They lived in Paul, Idaho.
Joseph Valentine Lee died at the age of 92 on 2 June 1980 in Burley, Idaho.