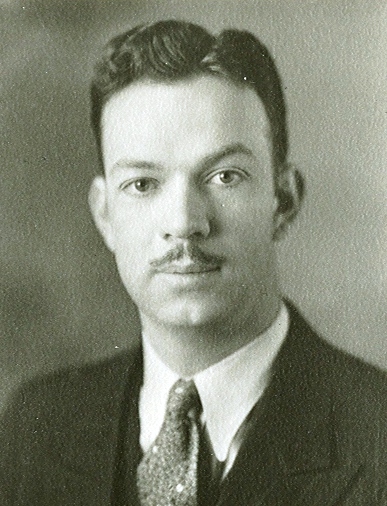 Joseph Lester Barlow was born on April 16, 1906, to Jesse and Annie Paskett Barlow, just two days before the great earthquake and fire in San Francisco.
His early years of schooling was in the Grouse Creek three-room sandstone school.
He worked on his father's horse ranch and later worked for a couple of years for the Southern Pacific Railroad at a rock crushing plant in Lucin,  Utah. At age twenty he went to Salt Lake City to obtain employment and further his education. While attending LDS Business College, he worked for Salt Lake Hardware Co.
He was called to serve a mission in California and Arizona. Many blessings and opportunities came to Lester while on his mission. He was instrumental in establishing the mission to the Indians (Lamanites), was District President, and was asked to extend his mission for six months so he could be in charge of the LDS Church Exhibit at the San Diego Worlds Fair. After returning home, he was again employed by the Salt Lake Hardware Company.
He married Sarah Knotts Reed on June 17, 1937 in the Salt Lake Temple.
He later left Salt Lake Hardware and joined a brokerage business,  Hughson and Merton, selling hardware to wholesale businesses in Montana, Idaho, Colorado, Utah , Wyoming, and New Mexico. Later, he purchased the territory and was an independent salesman covering the same territory. This he did for thirty-five years until 1976.
While visiting his son Reed in California in January 1975, he suffered a severe heart attack which caused him to retire. After recuperating, he did genealogy research and temple work. Later, he was called to be a missionary/host on Temple square which lasted for three years. He gave over 100 copies of the Book of Mormon with his and Sarah's testimony in it, to the Salt Lake Temple Ground Visitor Center to be distributed to the visitors. He received many letters about conversions resulting from this program.
Joseph Lester had been a missionary all his life and his efforts have resulted in many souls joining the Church.
A few short years after they were married, Lester and Sarah purchased a home on 8th Avenue in Salt Lake  where their first child was born,  Reed Nicholas. They then purchased a home on Highland Drive near 33rd South in Salt Lake. They lived there a few years while their second and third sons were born, Bruce Lavell and Steven Daniel. In 1949, they built a home on the corner of 12th Avenue and J Street. It is here that they raised their family. When age and health caught up with them, they sold the home in May 1988 and moved to Pleasanton, California to be by two of their sons, Reed and Steven.
When Sarah's health deteriorated (Alzheimer's disease), they moved to San Jose in January 1994 to a home where Reed and his wife Sharon cared for them (Sarah needed someone to be with her twenty-four hours as she would not stay in bed at night).
In December 1994, Sarah was moved to a nursing home and there, passed away on November 17, 1995. When Sarah moved to the nursing home, Lester moved out of the rented home and in with Reed where he resides today September 1996). Lester is in good health and does a lot of reading and watching television.
Lester and Sarah had three children, Reed, Bruce and Steven.
Reed filled a mission to France, then married Sharon Steffen (who joined the Church at BYU while there studying nursing before she met Reed) in 1965 in the Salt Lake Temple (Thomas S. Monson performed the Marriage). This was shortly after her graduation from BYU in Nursing. She worked while Reed finished his schooling. While there,  a son (Lester and Sarah's first grandchild) was born. His name is David. Reed graduated in 1968 and moved to the San Francisco Bay area and worked as an Auditor for the State of California. (Currently, he is a Sr. Auditor for the County Assessor). Reed eventually purchased a home inSan Jose where he has raised three sons (David, Robert, Thomas) and a daughter, Stephanie. David filled a mission to Belgium/France. He has a son (Lester and Sarah's first great grandchild) named Taylor. Robert filled a mission to Tahiti (a French colony). He also has a son, named Justin and is married to Lynette Walters who is from Salt Lake City. Stephanie is married to Michael Griffin and they live in Phoenix,Arizona. Thomas is living at home and helps care for Lester.
Bruce graduated from University of Utah and went to work as an Assistant Manager for the K-Mart Store Co. in 1967. He was transferred to Seattle, Washington where he met Doralee Martenson and they were married in the Salt Lake Temple in 1970 (S. Dilworth Young performed the marriage – he was a neighbor to Lester and Sarah and family). They were transferred to various locations as he was promoted. They lived in Seattle, Portland, Montana, back to Washington and then to Las Vegas. He has recently been promoted to Regional Manager over Utah, Nevada, and Arizona. Also, he is in process of moving to Salt Lake City. They have four sons and a daughter,  Lane, Tyler, Jared, Brandon, and Alexis. Lane was married in 1995 and he has fulfilled a mission to England. Tyler returned in 1995 from a mission to Paris, France and will be married in December 1996. Jared is currently serving a mission in Brazil. Brandon and Alexis are in school.
Steven married Lynne Wayman in 1965 and lived in Salt Lake. Here, Lester and Sarah's second grandson was born to Steve and wife, by name of Jeffrey. Later, Steve and Lynne were divorced. Steve moved to theSan Francisco Bay area and met and married Jane Terrell. They have four children, Anne, Michael, Laura, and Jennifer. When Jeff was twelve, he joined Steve and Jane in California. They lived in Sacramentoand now reside in Pleasanton. Jeff filled a mission to Idaho and later married Kim Boehm from Sacramento. They met at BYU. They have two children, a boy Samuel Ryan and a girl, Mary Alicia. Anne is going toUtah State, in Logan, Utah. Michael is in High School and Laura is in Middle School and Jennifer is in Grade School.
Steve owns a "Classic Car" business and sells these classic cars all over the world. The name of his business is  "Specialty Sales"  in Pleasanton, California.
Lester has a family and posterity he can be proud of.
Joseph Lester Barlow died on November 25, 1996 in San Jose, California. Interment in Salt Lake City Cemetery (Plat B 14).
Written by Lester and son, Reed Barlow