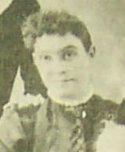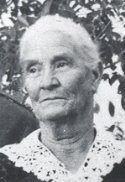 Annie Louisa Mecham was born on February 13, 1870 to Lorenzo Dowe Mecham and Mary Ann Clark at Grantsville, Utah. She moved to Grouse Creek in June 1877 at the age of seven and lived there until 1951. Their first home was in Etna. After she lived in Etna for about a year the family moved to what is known as the Hart place, west of Etna. She lived there until she was twenty years old.
Annie went to school for about a total of two months during her life, but learned to read and write. The reason she didn't attend school was that she lived so far from where school was held and was too far to walk. When she was twelve years old she walked three miles to work for the Al and Emily Tanner family. She washed clothes by hand for them once a week then had to walk home three miles again after working all day. When she was thirteen years old she worked for a Mrs. Lucas when her baby boy was born.
Annie and her brother helped their father by herding a small bunch of sheep that their father owned. When she was sixteen years old, she worked for a family named Parsons for two years. She worked for nearly everyone in Grouse Creek at one time or other. When she was nineteen years old she went to Salt Lake City on the train to work for the Eager family in their home for seven months. After that, she returned home and worked for the Warburtons until she went to work for William Pope Paskett. She was attending a dance at Grouse Creek and Mrs. Blanthorn, the Relief Society President, asked Annie if she would go to work for William Pope Paskett, who lost his wife and was left with six children. Mr. Paskett also asked her to work for him, so she did.
Annie married William P. Paskett on February 25, 1890 at Grouse Creek, and they were sealed in the Logan Temple on September 3, 1890. There were ten children born to William and Annie:  Mary Jane, Stephen Henery, David M., Hattie La Vina, Rhoda Annie, Charlotte, Melvin Oscar, Harold Andrew and John. Mrs. Blanthorn was the mid wife for all the children except Jane. Annies mother and Mrs. Richins assisted at Jane's birth.
Annie was used to hard work, so she used to go out in the field and help her husband with the hay and farm work. Sometimes she took the children in the field with her and tended them there. She helped raise five of her husband's six children by his first marriage, making fifteen children that she raised.
Her husband was a good carpenter, so he built them a beautiful home about 1912. It was a large two story house of English architecture and is still in use today. At the time they got their new home, Annie's mother was a widow so she came to live with them. In a short time, William built a small home for Annie's mother next to the new home where she lived and Annie could take care of her until she died onSeptember 4, 1930. The small house Annie's mother lived in is the same house David M. Paskett's family lived in years later when he came back to live in Grouse Creek.
When William died on September 24, 1946, Annie lived with her son, Harold, until he got married on April 3, 1950. She then lived alone for a short time and her son, John, and his wife, Greta, looked after her. Annie lived in the house her mother lived in and John and his wife lived in the larger house with their children.
On November 26, 1952, Annie and her sons, John, Melvin, and Harold sold the Paskett place with about 400 acres of land to Lester G. Carson and his wife. John and his wife then bought a home in Hyrum, Utah. When they moved to Hyrum they took all of Annie's furniture and personal effects and made her home with them for the rest of her life. She traveled some to Idaho and Utah to see her children and seemed to enjoy her travels.
She enjoyed her life-long hobby of quilting and crocheting. She was active until the time of her death in Ogden on July 19, 1960. Annie was buried in the Grouse Creek Cemetery on July 22, 1960. She was the last of her mother's children to die.