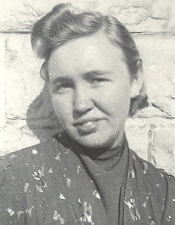 Barbara Jean Kimber was born on April 13, 1923, in Montello, Nevada. Her ancestors were Mormon pioneers. Her father William inherited a fertile spring-fed ranch with a mountain view in the midst of sagebrush country. She was the first child and only girl, and was taught by her mother Bertha to cook and clean for the many family and ranch hands that came to their table. She had 4 brothers: Kay, Jack, Bryce and Merrill. She started school in Grouse Creek, Utah; then went to High School in Montello. She played the piano like her mother and enjoyed music all of her life. She was smart and loved to read, and became her high school valedictorian.
When she was 18, Barbara joined "The Greatest Generation." She served her country from 1941-43 as a sheet metal worker on damaged planes at Hill Field in Ogden. She left that job to become a cadet nurse at the University of Utah in Salt Lake City. It was there that she met the love of her life, B-17 ball turret gunner William Alexander Clayton of Nashville. They both spoke of the intensity of the war years and their romantic courtship. He proposed to her on leave in Salt Lake City. He said that if she wouldn't marry him, he would go back to Europe for another tour of duty. She was 21, but would not be allowed to finish nursing school if she was married. She said yes, and then sent this Western Union telegram to her parents: Bill's here will be married Monday. Hurry!  They married October 23, 1944.
Thus began 42 years of marriage to William-half of her life. She was welcomed into the large Tennessee Clayton family, and became close to Bill's siblings and their families. Bill and Barbara loved Colorado and chose Englewood to build their life together. In 1947, they helped found this church, the First Presbyterian Church of Englewood. They had three children, William Alexander, Jr in 1946, Merrill Scott in 1947, and Margaret Diane in 1950.
Mom worked in the nursery of Porter Hospital during the baby boom, 1954-1959.ln 1959, Dad persuaded her to become a partner in his real estate business. He was then appointed Justice of the Peace for Arapahoe County and served until 1965. Mom was his clerk typist and Bookkeeper. She often cursed the bookwork, but knew he needed her and learned valuable lessons along the way. Being a good citizen was important to Mom. She stayed informed about politics, and always voted. She participated in Boy Scouts, Girl Scouts and PTA.
Though she sometimes closed her eyes in fear, she watched Bill kayak in the mountains. She also helped me as a senior with the Colorado Teen Age Republicans. It was this year that I started noticing her quiet charisma. For some reason my friends started calling her Mom instead of Mrs. Clayton. This puzzled me, as I didn't call their friends Mom! I think they saw her essential nurturing self.
She was queen of our kitchen, and never forgot the lessons of the ranch. The kitchen was the largest room in the house, and the place Mom spent most of her time. Her father, a fine carpenter, built her custom flour bins and a maple breadboard. She made all of our bread in the 50's and 60's, kneading, watching it rise and bake, and then guarding it from us until it was cool enough to cut.
Food, nurturance, love-they all went together for Mom. I remember how disappointed she was when I came back from college a vegetarian. You don't want my Swiss steak? But she adapted to please the vegetarians, the dieters who only wanted a glass of water, and also learned to cook "heart healthy" meals for Dad. She was a generous teacher in her kitchen, and enjoyed sharing recipes, techniques and her space. With a few exceptions–she made Dad do his experiments in vinegar-making in the basement.
I never met a better listener. Even if she was totally distant from the story or the situation, she tried to understand. She kept developing her mind and spirit through the years of her physical pain, and had a vivid imagination. She enjoyed recounting her fantastic dreams from the night before, and encouraged us to tell our stories.
She and Dad were delighted when Bill and Joan moved back to Colorado, and she was an enthusiastic and loving grandmother to Dan and Jennifer, and then Scott and Linda's children Katrina and Dee. They enriched her life beyond measure. She joined in the board games, especially Scrabble, and wrote letters and poetry in the finest hand, with always something meaningful to say.
After Dad died in 1986, she began the last quarter of her life as a widow. Even without Dad to help her, she continued the property management business. She vowed not to fritter away the nest egg that they had built together. She boned up on financial news in the paper, knew about the current bankruptcies, and when she got a stock prospectus in the mail, she read the whole thing. She gladly shared the information she had learned with several other widows in order to make their lives easier.
One year she was called by the IRS for a tax audit in downtown Denver. She called me in glee that evening–the auditor, no doubt charmed by her, told her how to amend her return and receive a bigger refund! And the taxi driver refused payment on the ride home, as she had offered him an ear to his troubles. She continued real estate management until 2004. In recent years, she gratefully leaned more heavily on Bill to deal with her financial affairs.
She was a seamstress, and made many clothes and Halloween costumes. It was another way to nurture and provide for her loved ones. She enjoyed the color, texture and possibility of a fresh piece of cloth, and sometimes could not resist the song of a bright pattern. Like a gardener who enjoys seeding more than weeding, she left a few projects undone. Do you remember her whole closet filled with cloth in the back bedroom?
If you asked her what her greatest accomplishment was, the answer never varied: my family. She created a web of connection for her family and friends, teaching us about each other's good deeds and qualities:
She left quite a few notes in a file about her wishes at death. Here is her note, which gives us a clear and plain direction of what she wanted us to do after she died. It is a command, not just a suggestion.
"Continue to respect and love one another."
By her daughter, Diane