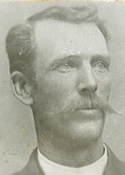 Thomas Atkin Warburton was born August 9, 1868 in Tooele, Tooele County, Utah or Salt Lake City, Salt Lake County, Utah as son of Richard and Emily Atkin Warburton.
His brothers and sisters are: Richard Edward, Mary, Emily, Annabell, James Atkin, Sofia, Georgia and Edward.
He never married.
He was a farmer and stockman.
He died July 9, 1936 in Etna, Utah and is buried in the Grouse Creek Cemetery.