Hattie Lovina Paskett Richins was born July 1, 1898 in Grouse Creek, Utah a daughter of William Pope and Annie Louisa Mecham Paskett.
Her brothers and sisters are: William, Annie, Mary Jane, Stephen Henry, David M., Rhoda Annie, Charlotte, Melvin Oscar, Harold Andrew and John.
She was reared and educated in Grouse Creek, Utah.
On April 10, 1927 she married Wilford F. Richins.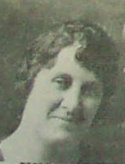 Her children are: Orva Wilford, Sarah LaRaida, Elsie Drucilla, Lillian Lucille, Myrtle, Curtis Wilford (who lived only three days), Leola, Edgar Gayle, DeVerl, GeNeal, and Wallace Dean. Seven of them where step-children.
She was a member of the LDS Church.
She lived past 42 years in the Declo, Idaho area.
She died on February 11, 1969 as a result of an automobile accident and is buried in the Declo Cemetery.