Clarence Ray Smith was born in Malta, Idaho a son of Morris Albert Smith and Evelyn Tracy. His brothers and sisters are Irvin, Beatrice, Delsie, Verl, Owen, William and Eugene. He attended grammar school in Yost, Utah and graduated from Raft River High School in Malta, Idaho in 1949. After spending two years (December 1952 to September 1954) in the U.S. Army, which included a year's tour of duty in Korea, it was off to Utah State University for a B.S. Degree in Accounting (1958). Later he did graduate studies at Utah State Universityand the University of Southern California.
On April 16, 1953 he married Phyllis Arbon from Snowville, Utah. The marriage was later solemnized in the LDS Logan Temple. They are parents of three daughters, Debbie, Pattie and Annette and grandparents of five grandsons and three granddaughters.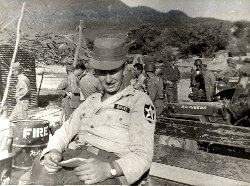 He worked for Thiokol Chemical Corp. from March 1958 to December 1963 and when it became apparent that Thiokol was going to reduce staff he decided it was a good time to look for a new career. They moved to Southern California at the end of 1963. In 1967 he joined ATI Industries, a company located in Escondido, California, which produces Aircraft Fabricating hand tools. He later gained a majority interest in the Company becoming its President in 1970.
Snap-On Tools bought the company in 1985 and he worked for them until his retirement in 1987.
Clarence was active in the community of Escondido joining the Escondido Country Club, Exchange Club, The Board of Directors of the Boys Club, The Board of Directors of the Chamber of Commerce, Industrial Development Council, Co-Chairman of the First Annual Kit Carson Days Celebration, Personnel Review Board, Escondido Police Posse, Police Reserves and later the PaumaValley Country Club.
In 1983 they purchased the home ranch of Wilda and Ray Kimber  in Grouse Creek, Utah. He had been raising horses on his place in Escondido and wanted a place where he could continue this after his retirement. He has had several snaffle bit horses shown in NRCHA and NCHA events and has won numerous local and National awards. He stands Two "Doc Bar" bred stallions at the ranch and runs approximately twenty brood mares.
In 1992 he purchased the old Warburton Ranch (rock house) in Etna, Utah and started a cow/calf operation. In 1995 he teamed up with Milt Oman to run the ranch on a percentage basis. This allows him some free time to pursue leisure time interests such as horse shows, golf, fishing and travel.
Since 1985 Clarence has been a director and shareholder of North County Bank in Escondido. He served as Chairman of the Board of the Bank from 1987 to 1992 and Chairman of North  County Bancorp (a holding Company) from 1989 to 1992. He remains active on this Board.