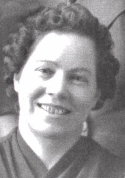 Florence Warburton was born April 26, 1894 in Salt Lake City, Utah, a daughter of Robert and Annie Jorgenson Shepherd.
Her father was Scottish, a short man, and very strong. He was involved during a period of time in the building of the Salt Lake Temple. People marveled at his ability to perform tasks requiring much strength while he was working on the Temple.
She had the following brothers and sisters:  Annie Christena, LeRoy Robert, Bertha May, Blanche Matilda, Dorothy Winfield and Erma Euland.
She attended Salt Lake City schools and the University of Utah. She studied piano under the Tabernacle Choir leader, J. Spencer Cornwall and sang with the Tabernacle Choir for a few years.
She taught school at Thatcher, Bothwell and Grouse Creek, Utah.
On April 20, 1921, she married Delbert D. Warburton in the Salt Lake LDS Temple. They were the parents of:  Dale LeRoy, Gerald Richard, Robert Shepherd, Dorothy Faye and Odell.
She spent the balance of her life raising their children and helping her husband in ranching in the Etna/Grouse Creek/West Box Elder county area.
She was afflicted with Bright's disease which caused her untimely death on November 30, 1948. She is buried in the Grouse Creek Cemetery.